En el mes de diciembre llegaba a su fin la existencia de la sala Fabryka en Cracovia, lugar de encuentro para los amantes de la música en directo durante los últimos años.
Last December was the final month of the Fabryka club in Krakow, meeting place for lovers of live music in recent years.
Y entre los conciertos que cerraban su andadura, el que me sirvió para despedirme de esta sala fue el concierto que daban Kadavar junto con otras bandas dentro de la gira que les había llevado por toda Europa durante el otoño de 2015.
And, from all the shows that closed his activity during this month, the one which helped me to say goodbye to this place was the concert that Kadavar gave with other bands in the pack that had toured across Europe in autumn 2015.
El conjunto de bandas que nos amenizaron completaba un cartel muy apetecible que pasó a detallar.
The bands that entertained us fulfilled a very appealing lineup that I will describe with more detail.
Empezando por una banda que no había podido ver cuando tocaron en el Roadburn bajo el paraguas del día en que Electric Wizard proponía las bandas a tocar (2014, si mal no recuerdo).
Starting with a band that I hadn't manage to see when they played at the Roadburn under the Electric Wizard's curator role(2014, if I remember  correctly). They were Satan's Satyrs.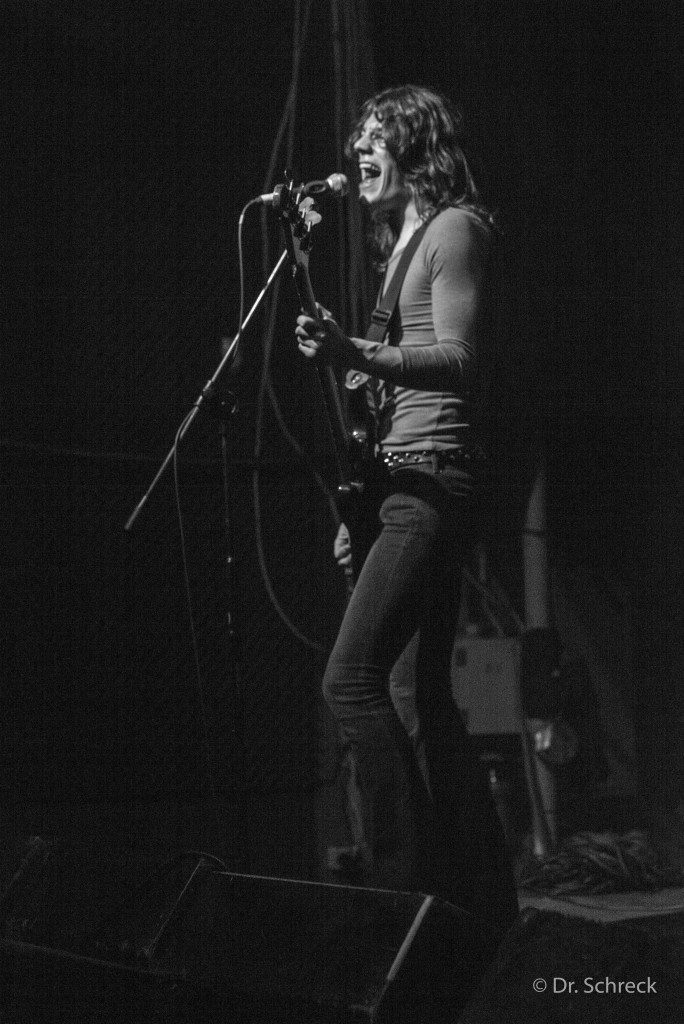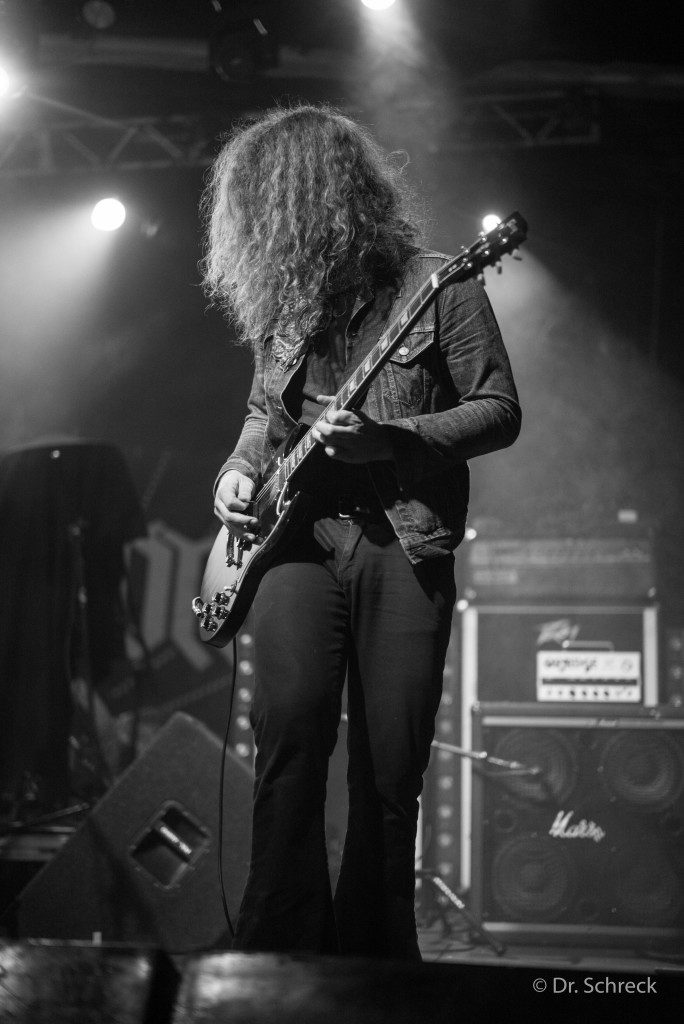 Era de esperar un estilo especial con esos padrinos pero la verdad es que no me resultó especialmente llamativa ni su propuesta musical ni su puesta en escena. De hecho me dio la sensación que gran parte del público compartió mi opinion (dada la escasa reacción hacia su música).
I was expecting something special with these godfathers but the truth is that I didn't found particularly amusing their music. In fact I got the feeling that a big parte of the audience shared my opinion (due to their weak reaction to their music).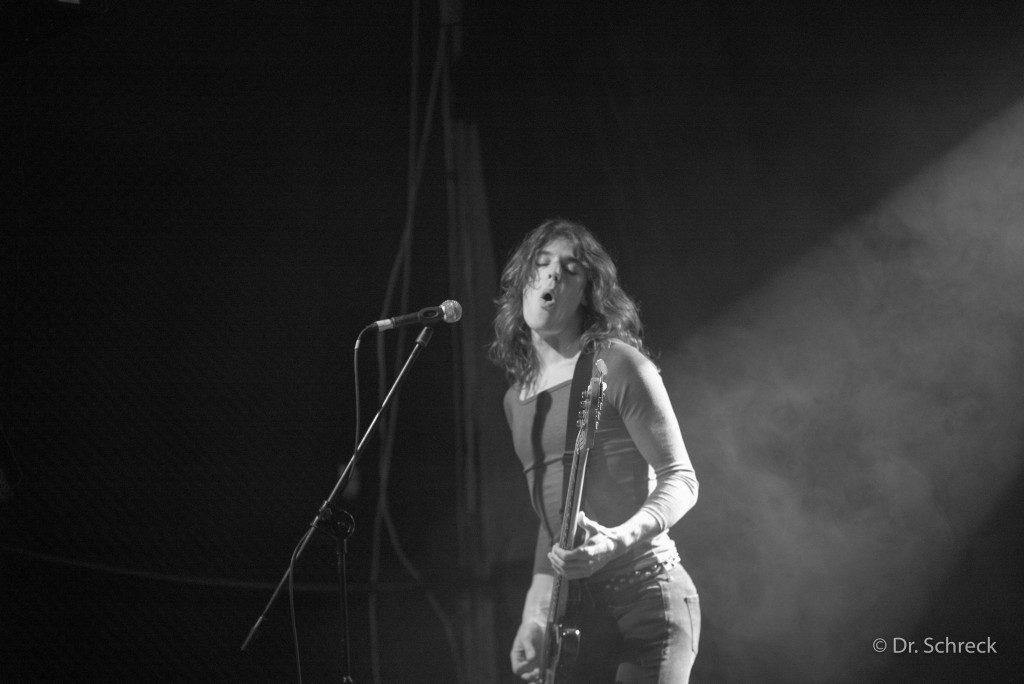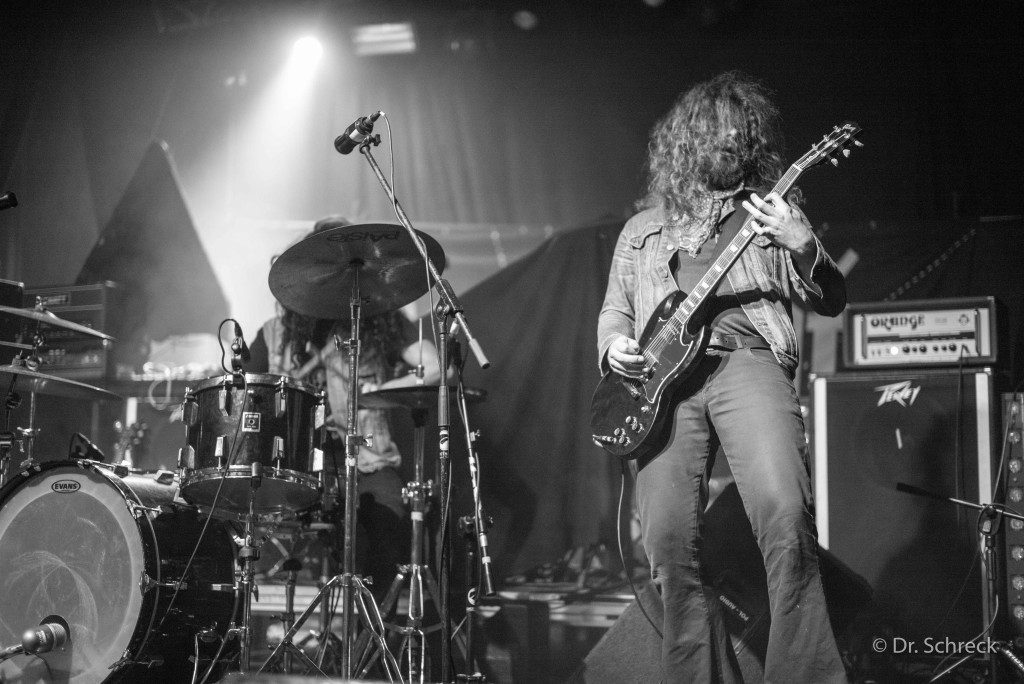 Una vez acabaron su concierto llevaba el momento de una banda por la que siempre he tenido predilección: Horisont.
Once they finished their concert, it was the time of a band for which I have always had a predilection: Horisont.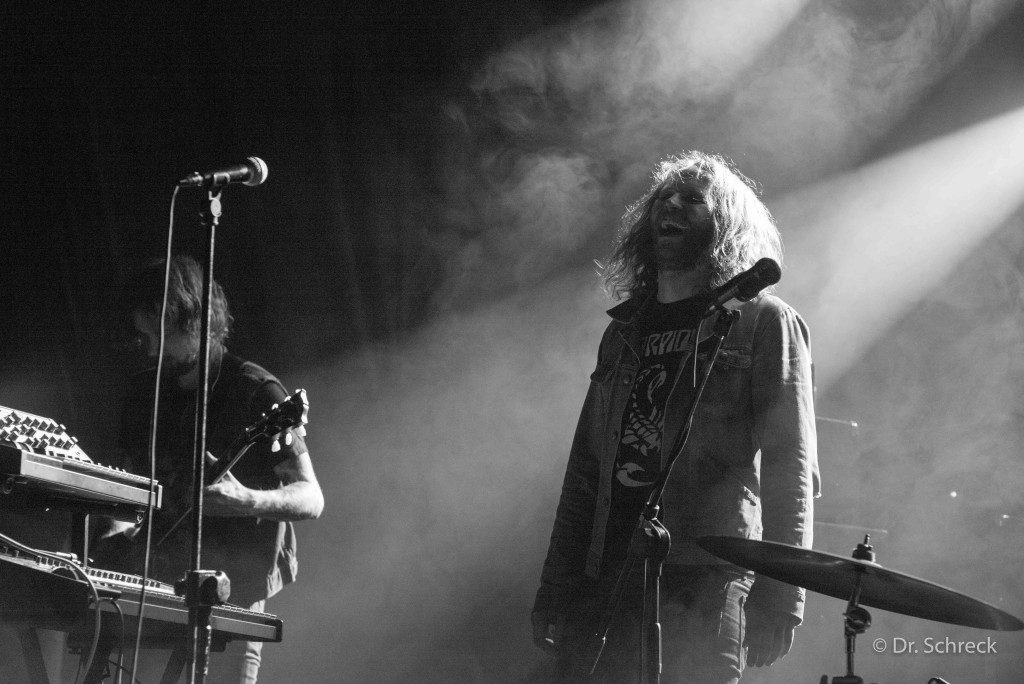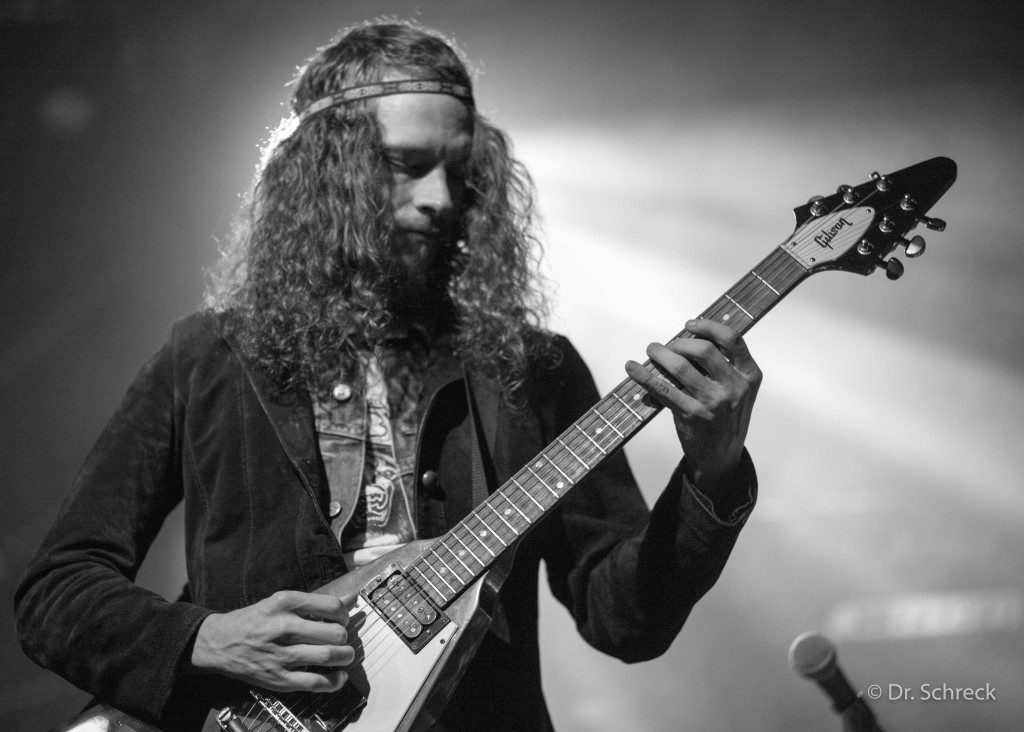 Desde la vez que los ví abrir en la Green Room del Roadburn los conciertos del festival del 2012, no he perdido la oportunidad de verlos en directo. Y tras su último disco, Odyssey en el que apuestan 100% por el estilo de los Deep Purple debo de decir que estaba ansioso por ver como lo trasladaban en directo.
From the time I saw them opening at the Green Room on Roadburn Festival 2012, I haven't lose the opportunity to see them live again. And after his latest album, Odyssey , where they get a big influence from some Deep Purple stuff, I must say that I was anxious to see how they bring it together in a live performance.
Y la verdad es que no defraudaron en absoluto. Pese a disponer de poco espacio en escena, salieron a arrasar. Comenzando con el primer tema de su ultimo disco (de unos 10 minutos) demostraron la confianza en sus nuevos temas.
And the truth is that they didn't disappoint at all. Avoiding the fact that they have little space on stage, their performance started on fire. Began the show with the song that open their last record (a 10 minutes song) proved their confidence in their new songs.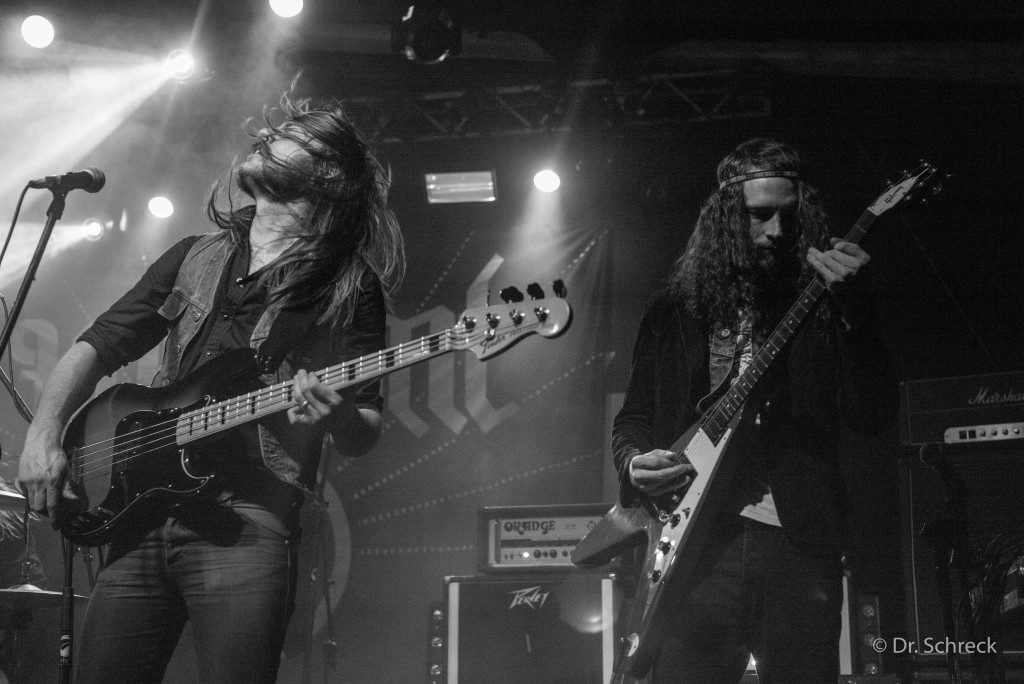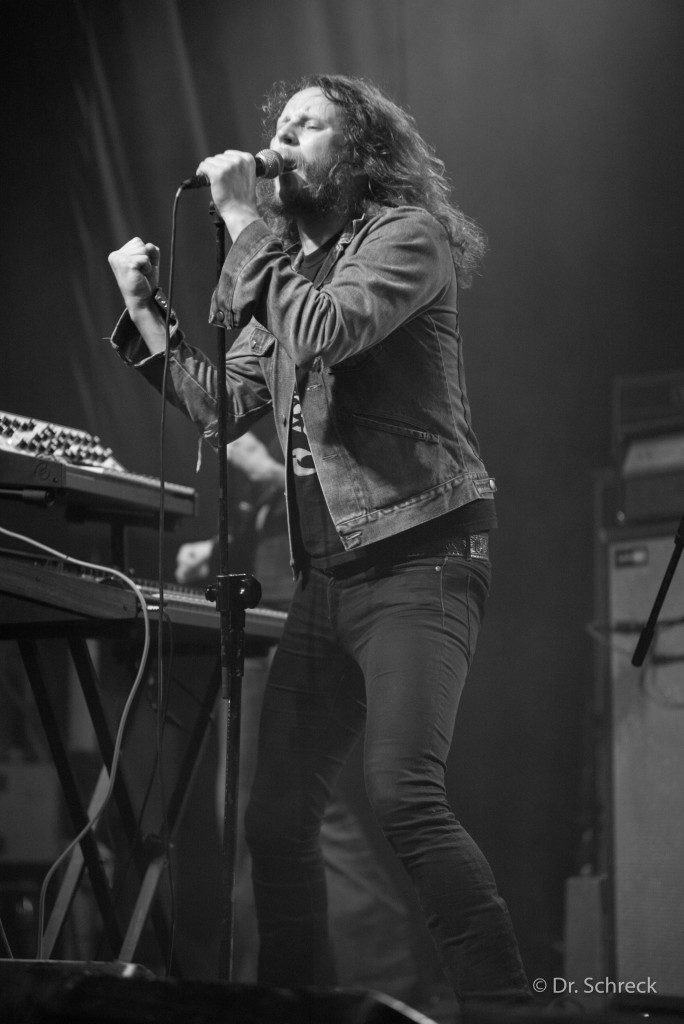 La banda demostró un nivel estratosférico y dejó al público tras la media hora de la que dispusieron con ganas de más y reclamando unos bises que nunca llegaron. Una lástima que fuese tan corto el concierto, pero está visto que es mejor convencer durante la media hora que te puede ofrecer en un cartel amplio. De ese modo te permite llegar a más gente y que posteriormente se desplacen a tus conciertos como cabeza de cartel.
The band showed a stratospheric level and left the audience after the half-hour performance requesting for more and claiming some encores that never came. Too bad that their performance was so short, but it seems that it's better to convince the audience during the half hour that can offer you a slot under a larger tour. This allow the band to reach more potential audience and then they will go to your headlining concerts.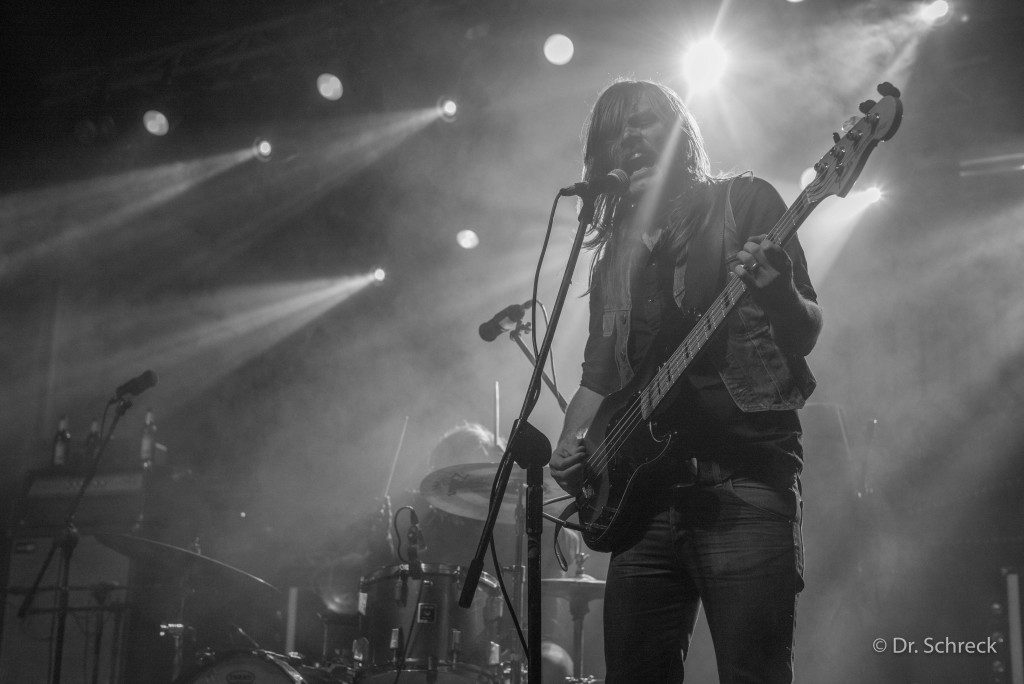 Tras ellos era el tiempo de The Shrine, los cuales no había visto desde que fueron teloneros de Fu Manchu en la gira de aniversario de The Action Is Go, y debo decir que la banda ha progresado mucho y se ve que tienen tablas de sobra para ir de segundos de cartel.
After them it was the time of The Shrine, which I hadn't seen since they were the support for Fu Manchu in their anniversary tour for The Action Is Go release, and I must say that the band has improved a lot and even, allow them to be the last support before the headliner.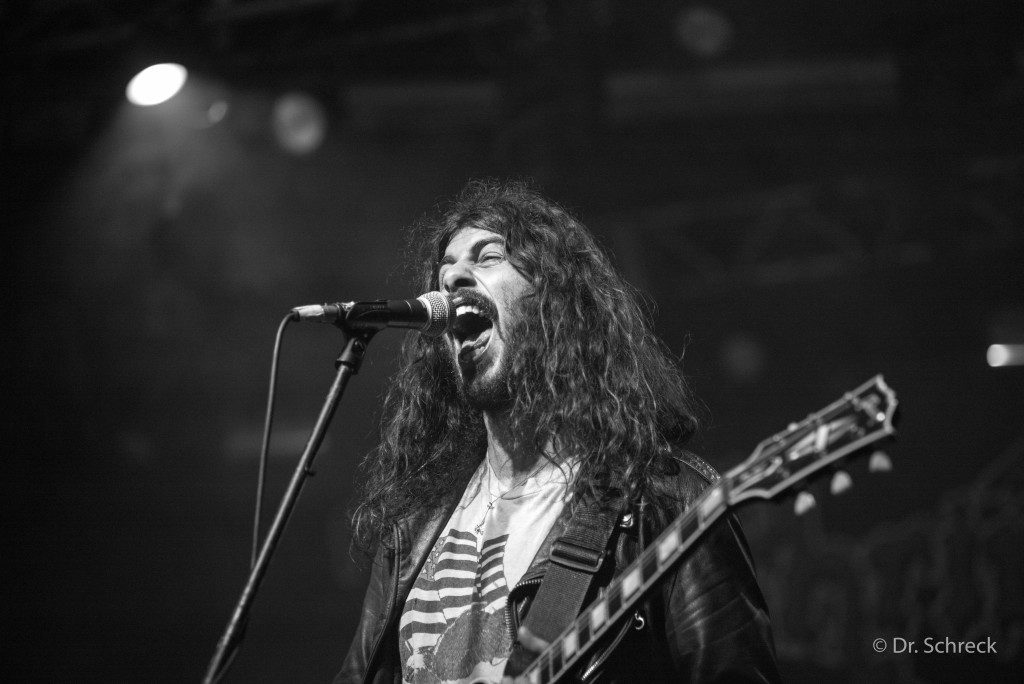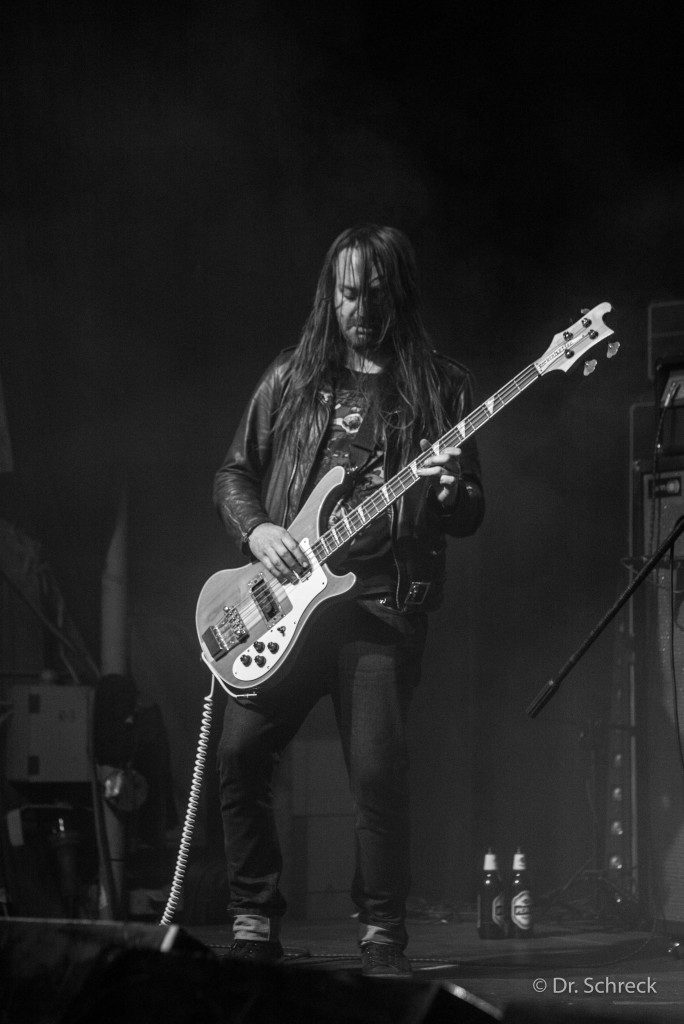 Más energía punk y rabia en sus composiciones que en los anteriores grupos provocaron que el público estuviese muy animado durante el concierto. Tal vez no tengan canciones que se te queden grabadas a fuego pero pasas un rato muy entretenido.
More punk energy and anger in their compositions than the previous groups mad that the public were more active during their concert. They may not have songs that will remain sealed to your memory but it was a very enjoyable 45 minutes.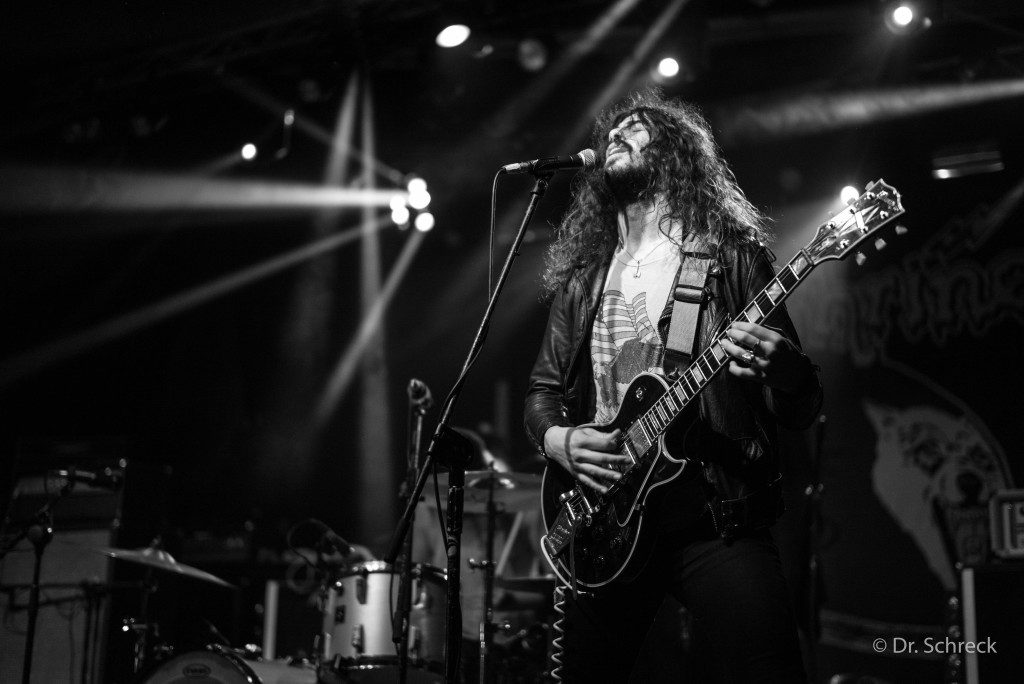 El concierto llegaba a su fin y lo hacía con los alemanes Kadavar, con su rock vintage y un escenario con unos grandes logos luminosos que de manera fenomenal daban un clima fantástico al concierto.
The concert came to an end and did it with the germans Kadavar with its vintage rock and a stage decorated with some large and bright triangular  logos that gave a fantastic climate to their stage.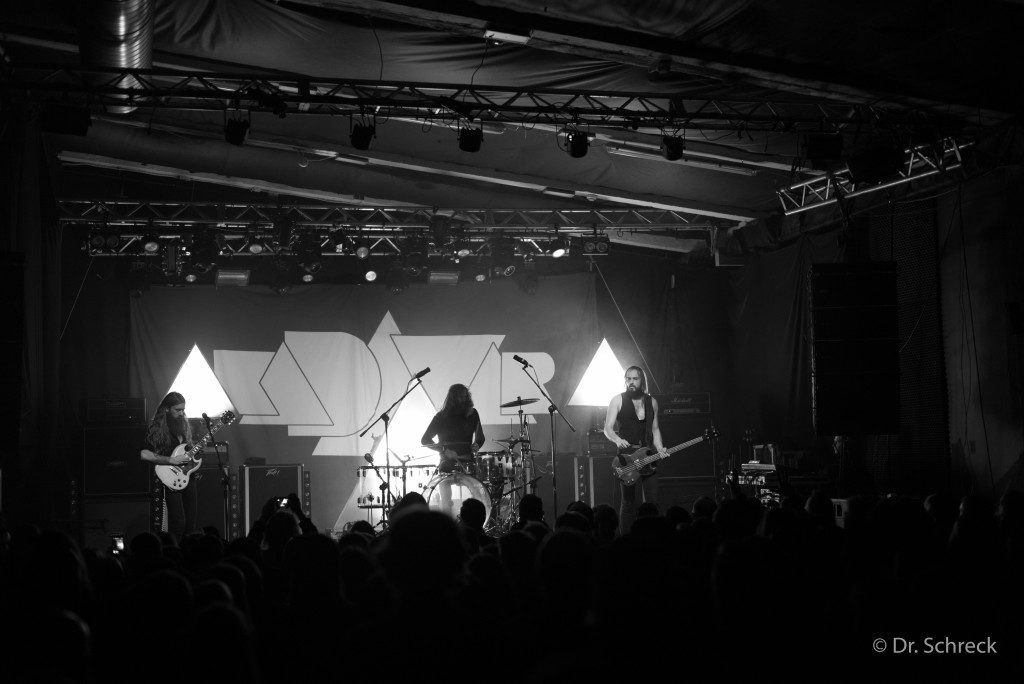 Del trío, cabe destacar que el más dinámico y espectacular resultó ser el batería puesto que él guitarra y el bajista estuvieron bastante estáticos durante todo el concierto. Hicieron un recorrido por temas de sus tres discos con un sonido especialmente contundente como no se había oído el resto de la noche y con las luces dando un ambiente adicional muy dinámico.
About them, it should be noted that the most dynamic and spectacular proved to be their drummer since guitarist and bassist were fairly static throughout the concert. They go through their three discs with a stronger sound than previous bands and with those triangular logos giving an additional light that complete the experience.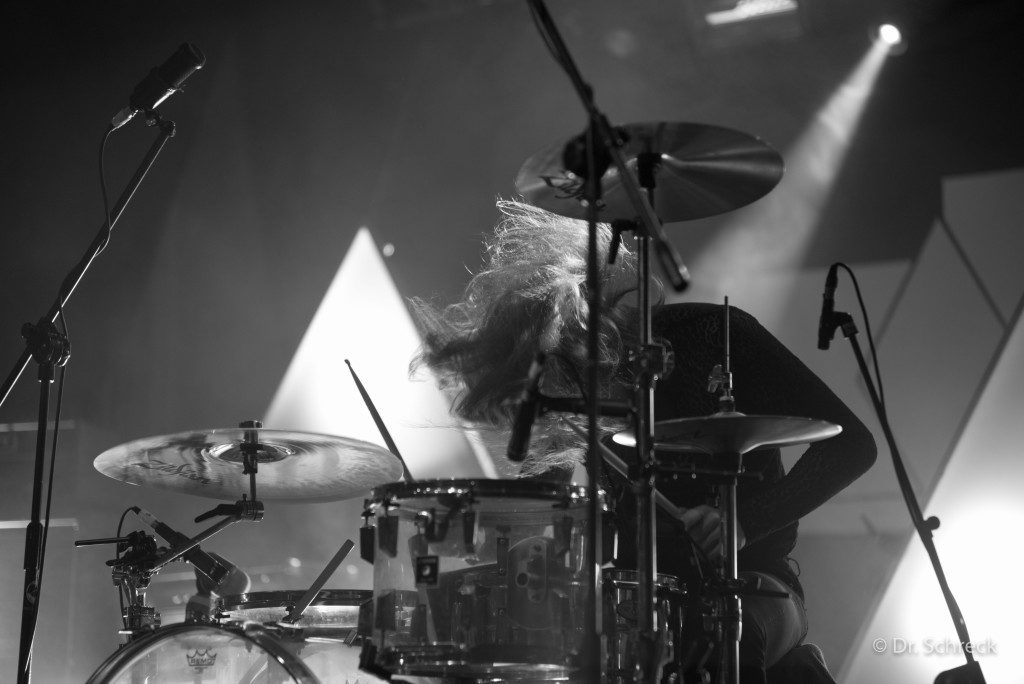 Para mi gusto, dentro de las bandas que se acogen a este revival de rock de los 70 y que han tenido más éxito, no es la que más me llega. Bandas como Graveyard, Uncle Acid o los propios Horisont tienen canciones con un punto melódico mas adictivo. De todos modos, Kadavar están a un nivel muy alto ya y es cuestión solamente de preferencias. En todo caso, y para que quede claro, volvería a verlos si tengo la oportunidad.
For my taste, within the bands who take this revival of 70s rock with more success, they aren't my favorite. Bands like Graveyard, Uncle Acid or even Horisont have more addictive songs (for me). Anyway, Kadavar are at a very high level and it's only a matter of preference. To be clear and for the record, I would see them again if I have the chance.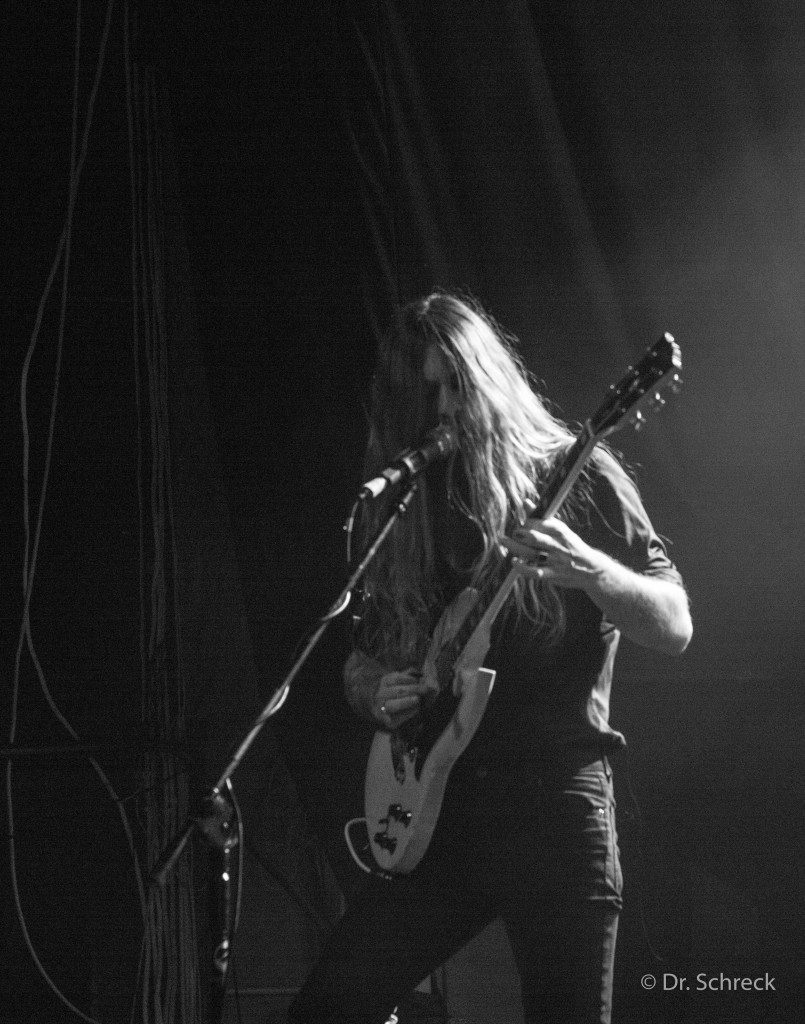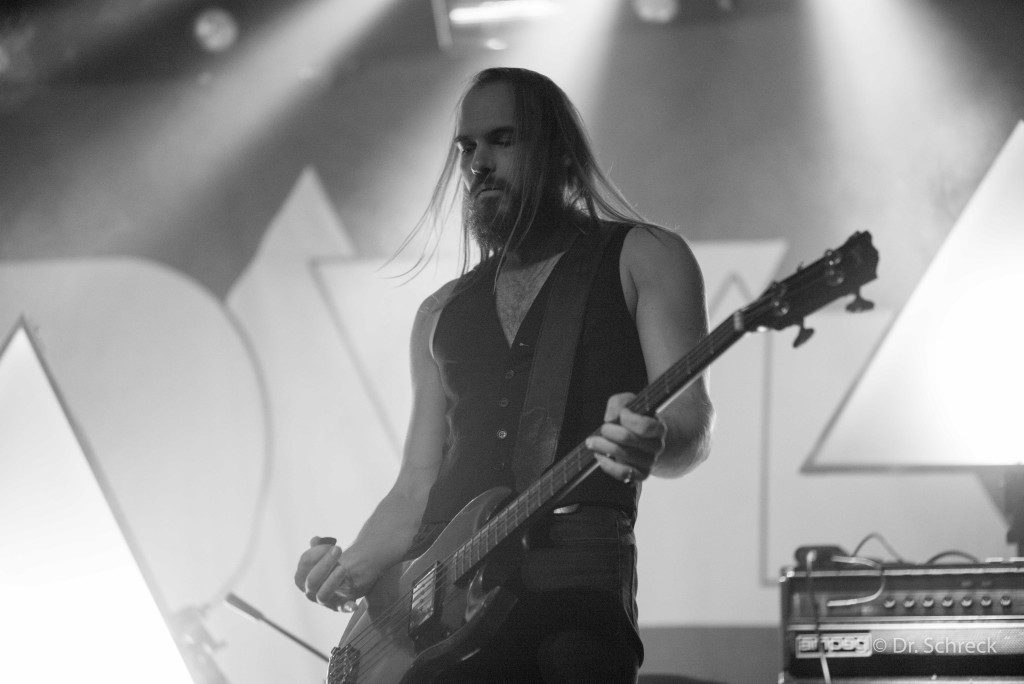 Una cosa es segura, y es que la banda supo dar mucha energía porque durante su concierto llegue a ver gente volando sobre las cabezas de los asistentes.
One thing is certain, the band was able to give a lot of energy and during their concert I saw people flying over the heads of the audience.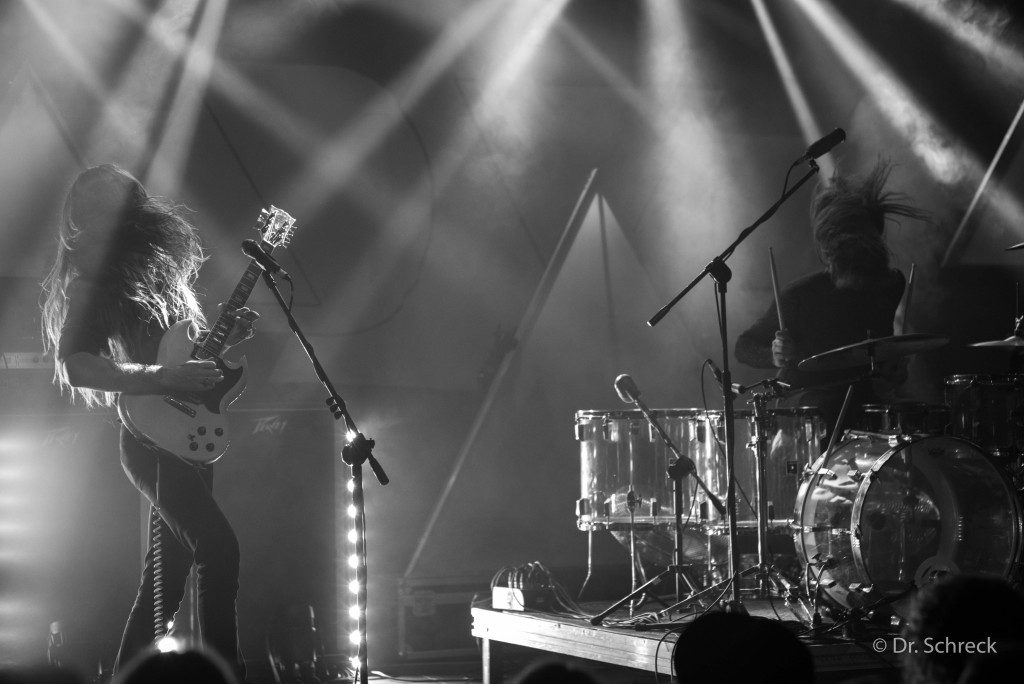 Como final quiero añadir que fue un gran concierto con el que recordar mi ultimo concierto en Fabryka. Una lastima tener que despedir a la sala Fabryka de Cracovia pero quedan otras como Studio, Zaścianek, Rotunda o Kwadrat que nos seguirán deleitando con música en directo.
To summarize, I want to mark that it was great concert to remember my last time in Fabryka. A shame that we have to say goodbye to Fabryka but the will keep the hope in live music with others clubs such as Studio, Zaścianek, Rotunda or Kwadrat.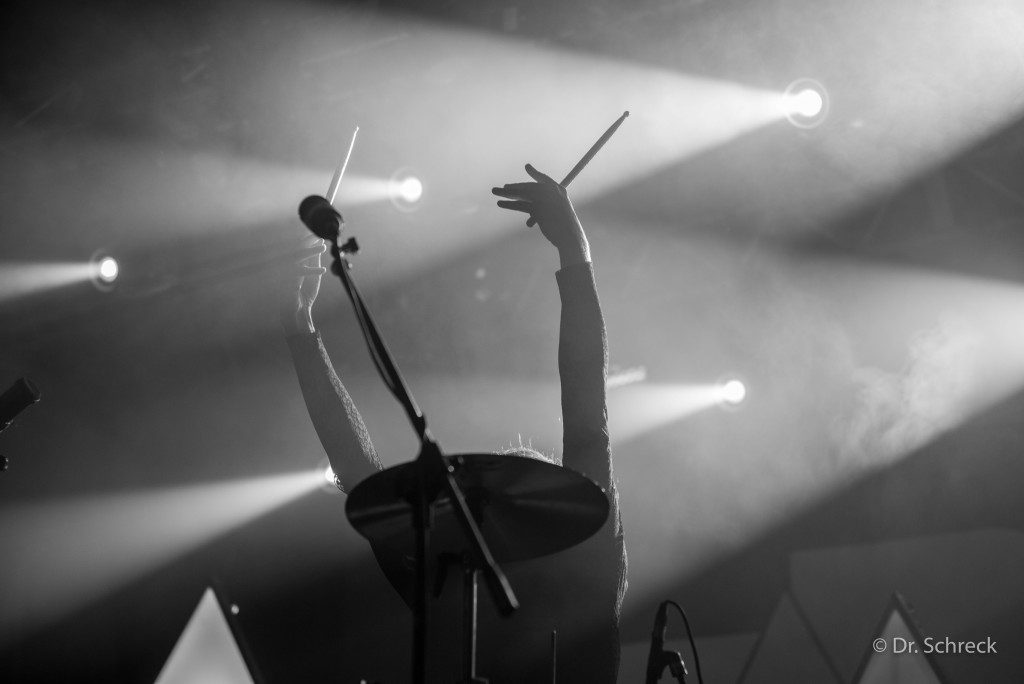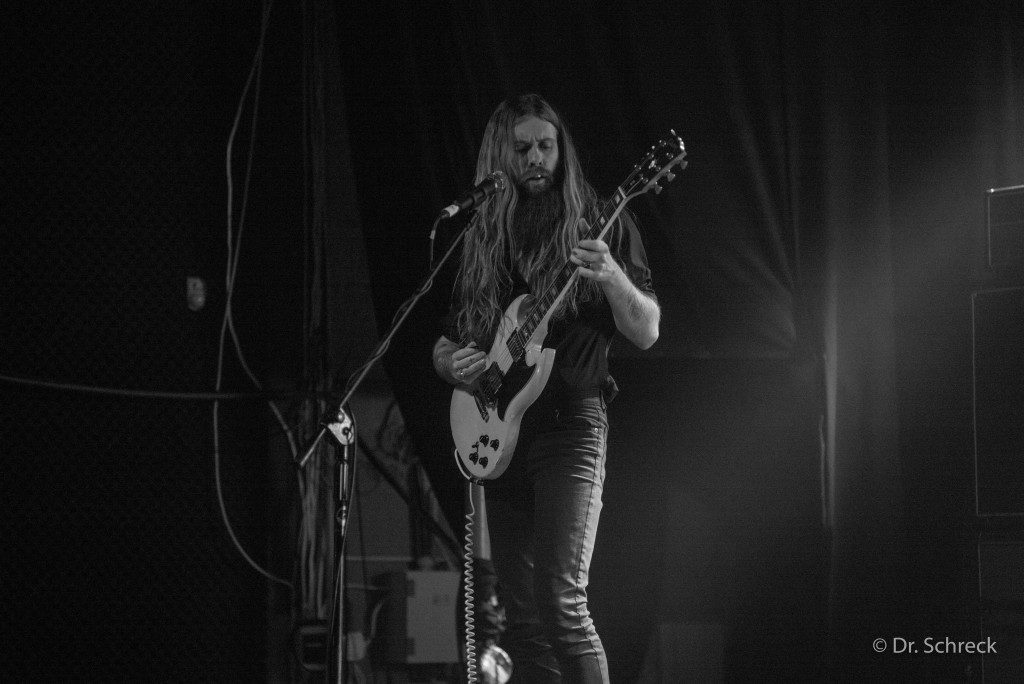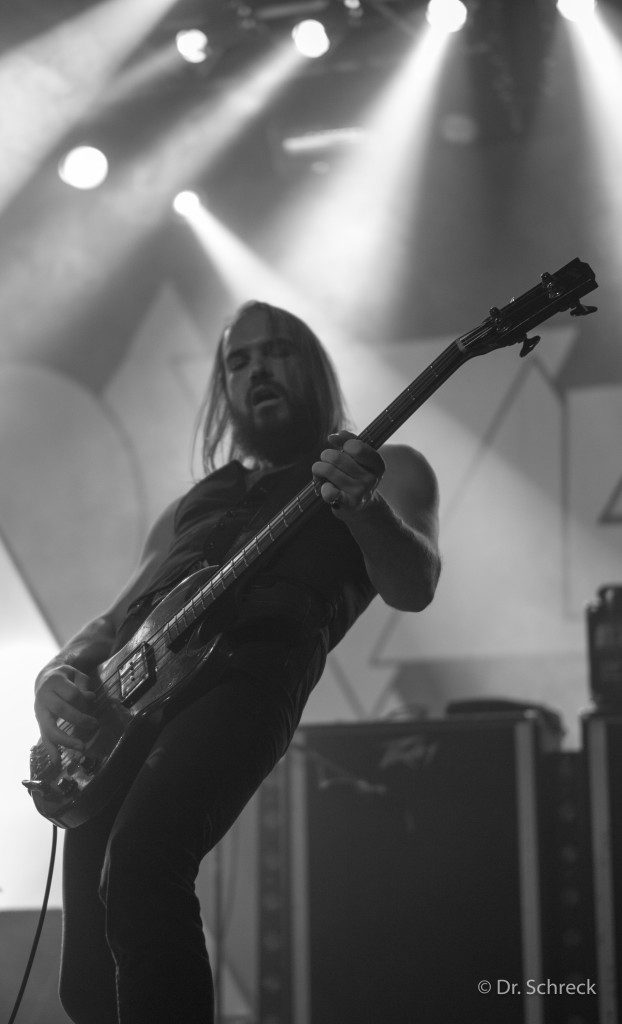 Mención especial a la promotora Knock Out que fue la que más apostó por esa sala y que continúan su andadura trayendo prácticamente los mejores conciertos por toda la geografía polaca.
I'm also want to express my gratitude to promoter Knock Out with their bet to revitalize the Fabryka club and hoping that they continue their bet for bringing great concerts throughout the Polish geography as they often do.