Y llego el momento de cerrar el trio de artículos que he dedicado a mis andanzas siguiendo el rastro de Trouble.
And now it's time to close the trio of articles I have dedicated about my trips following the trail of the legendaryTrouble.
Mi ultima parada tuvo lugar en Leipzig y tras un viaje relámpago llegue a la ciudad alemana para acercarme por la sala Werk 2.
My last stop took place in Leipzig and after a quick trip to the German city, it was time to found the Werk 2 club.
Allí iba a tener lugar el concierto de Trouble, en esta ocasión abriendo para Crowbar (el propio Kirk Windstein declaro que le resultaba extraño que abriesen para ellos los conciertos una banda que les ha servido de inspiración).
There was the place for the Trouble concert, this time  they were opening for Crowbar (Kirk Windstein himself declared that he found strange that they would get as support band who has inspired them).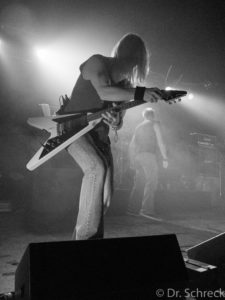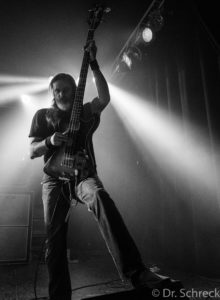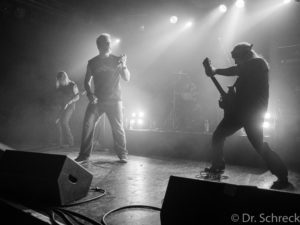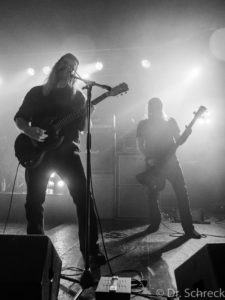 Tras una banda local que paso sin pena ni gloria, comenzaba el concierto de Trouble. Para mi era clave comprobar como solventaba los temas clásicos su vocalista Kyle Thomas, puesto que cubrir el puesto de Eric Wagner no era tarea fácil. Debo decir que vocalmente demostró estar capacitado para ello.
After a local band with no further mention, Trouble began their concert. It was key for me how was the approach to the old songs by vocalist Kyle Thomas, since the filling the shoes of Eric Wagner wasn't an easy task. I must say that vocally he proved to be qualified to do so.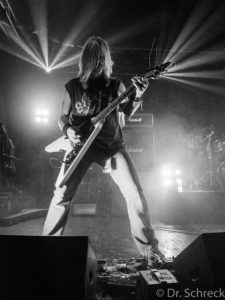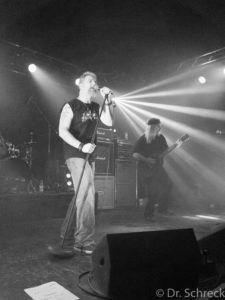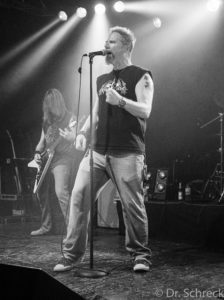 Sin embargo la presencia escénica desprendía mucha menos aura que en el caso de Eric Wagner con The Skull.
However the stage presence was less magical that it was when Eric Wagner played with The Skull.
Eso si, hay que decir que todo lo que le faltaba al vocalista les sobraba en carisma a los dos guitarristas de Trouble. 
In any case, I must say that both guitarists were plenty of charisma.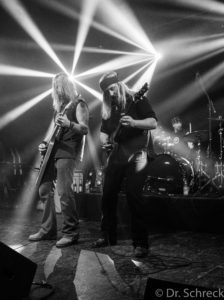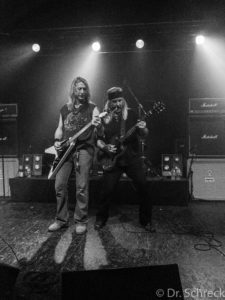 Con un repertorio plagado de clásicos y con la excepción de un tema de su ultimo trabajo The Distortion Field, el concierto fue abrumador y me pareció excepcional.
With a setlist full of old stuff (with the exception of one song of his latest work The Distortion Field), the concert was overwhelming and it was an absolute joy.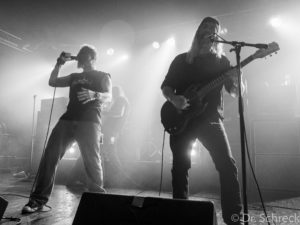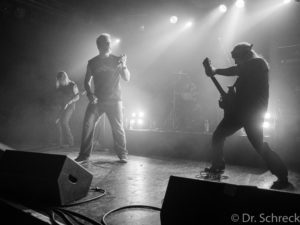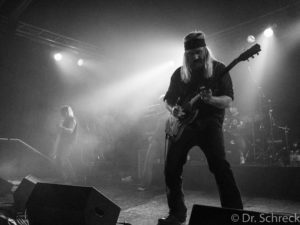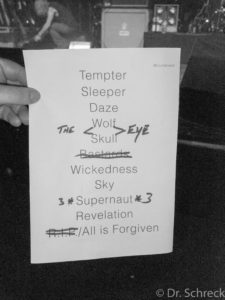 Tras Trouble, momento para que Crowbar tomasen el escenario de manera demoledora. Celebrando el 20 aniversario de Broken Glass en la gira que les traía a Europa, fue un gran concierto.
After Trouble, time for Crowbar to take they stage. They were celebrating the 20th anniversary of Broken Glass record on the tour that brought them to Europe and they perform a really great concert.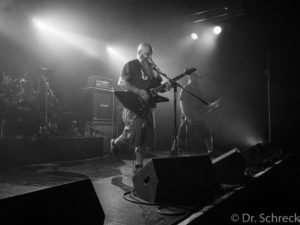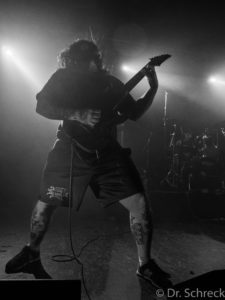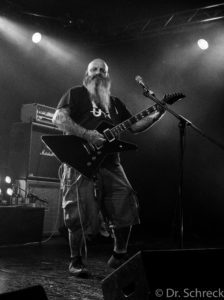 Pero en esta ocasión, y pese al gran concierto de Crowbar, todos mis sentidos se quedaron impregnados por el concierto de Trouble.
But this time, despite the great concert of Crowbar, all my senses were still flying with the Trouble concert.