Una crónica corta para un concierto intenso.
Se presentaba la ocasión de asistir al concierto de Paradise Lost en la localidad checa de Ostrava que, por cuestión de fechas (el concierto era un sábado), me permitió poder asistir al mismo.
At the end of October, there was a chance to attend the concert of Paradise Lost in the Czech town of Ostrava that, due to the concert was on Saturday, I could manage to go.
Esta localidad minera de la Silesia checa junto a la frontera con Polonia tiene algunos acontecimientos musicales a lo largo del año como el multidisciplinar Colors Of Ostrava, conciertos de bandas grandes en el pabellón Ostrava Arena o  antes ČEZ Arena (Allí pude ver hace unos años a KISS) se conjuntan con conciertos mas pequeños que se desarrollan en el club Barrak.
This mining town in the Czech Silesia near the border with Poland has some musical events throughout the year as the multidisciplinary Colors Of Ostrava, big band concerts in the pavilion Ostrava Arena (before i was called ČEZ Arena when I managed to see KISS a few years ago) and also smaller concerts that take place in clubs like the club Barrak in which the concert of Paradise Lost was held.
Ostrava también es conocida por su zona de marcha que reúne a mucha gente en fin de semana aunque a mi no me pareció tan llamativa cuando estuve. A mi parecer no resistiría la comparación con una ciudad española.
Ostrava is also known for its nightlife district that brings together many people every weekend although I didn't looks so special to me. In my opinion not stand in comparison with a Spanish city at night. 
El club Barrak es un lugar curioso puesto que se encuentra en la segunda planta de un edificio que aparenta un ligero abandono y al que se accede por las escaleras alrededor de un ascensor que supongo que solo utilizan para las bandas (siempre esta bloqueado).
The club Barrak is a curious place because it's located on the second floor of a building that seems slight abandoned and which is accessed only by stairs around an elevator. I guess the lift is only used by the bands because is always locked.
La sala es bastante amplia con 2 barras pero con un escenario ligeramente bajo y cercano al techo lo que da un sensación ligeramente agobiante cuando estas un poco lejos del escenario.
The room is quite large with 2 bars but with a slightly low stage and someway close to the ceiling which gives a slightly oppressive feeling when you're a little far from the stage.
Al tener que desplazarme de nuevo en coche de vuelta a mi residencia (hacer notar que el aparcamiento en la República Checa parece ser siempre un problema, y en Ostrava no es una excepción) no tuve ocasión de probar los excelentes caldos checos (entiéndase cerveza) pero tanto por su sabor por su valor (son mas baratas algunas cervezas de medio litro que un refresco de 33 cl).
Having to commute back drive back to my residence (need to note that parking in the Czech Republic seems to be always a problem, and Ostrava is no exception), so I had no chance to try the excellent Czech liquids (meaning beer) in terms of taste and cost (some beer pints are cheaper than a 33 cl soda).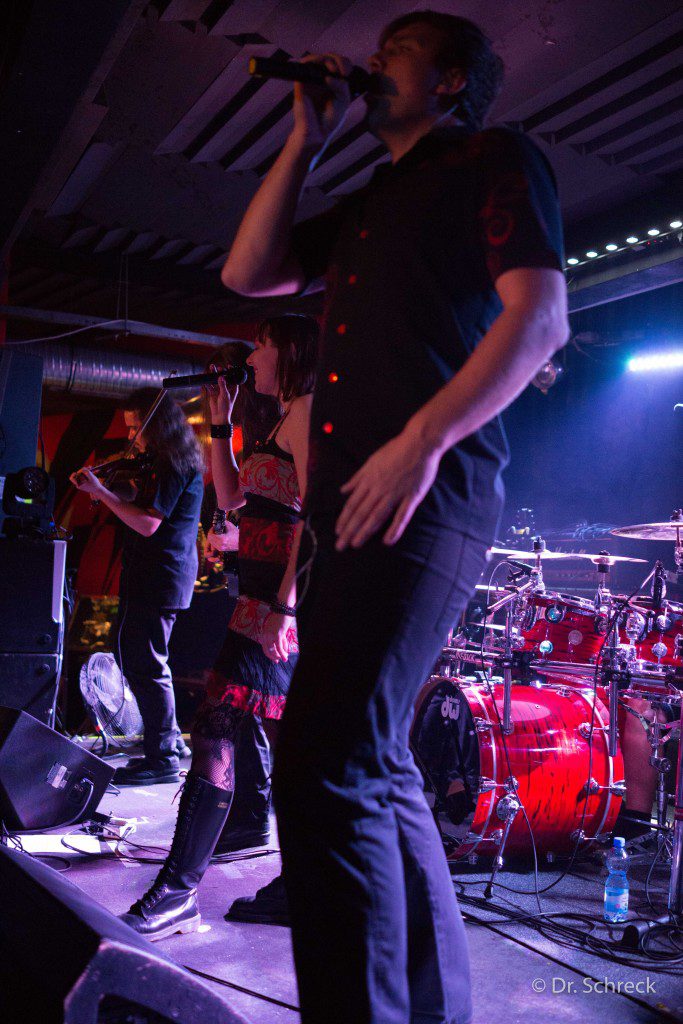 Entrando ya en detalles del concierto y tras un telonero local que hacia una mezcla de death con voces femeninas y sin bajo pero con violin que no me inspiro especialmente, llegaba el momento de la banda que acompañaba durante toda la gira a Paradise Lost.
Going into details of the concert and after that a local support band with a mixture of death and female vocals with violin but without bass it wasn't so interesting to me; comes the time for the band that was doing all the tour with Paradise Lost.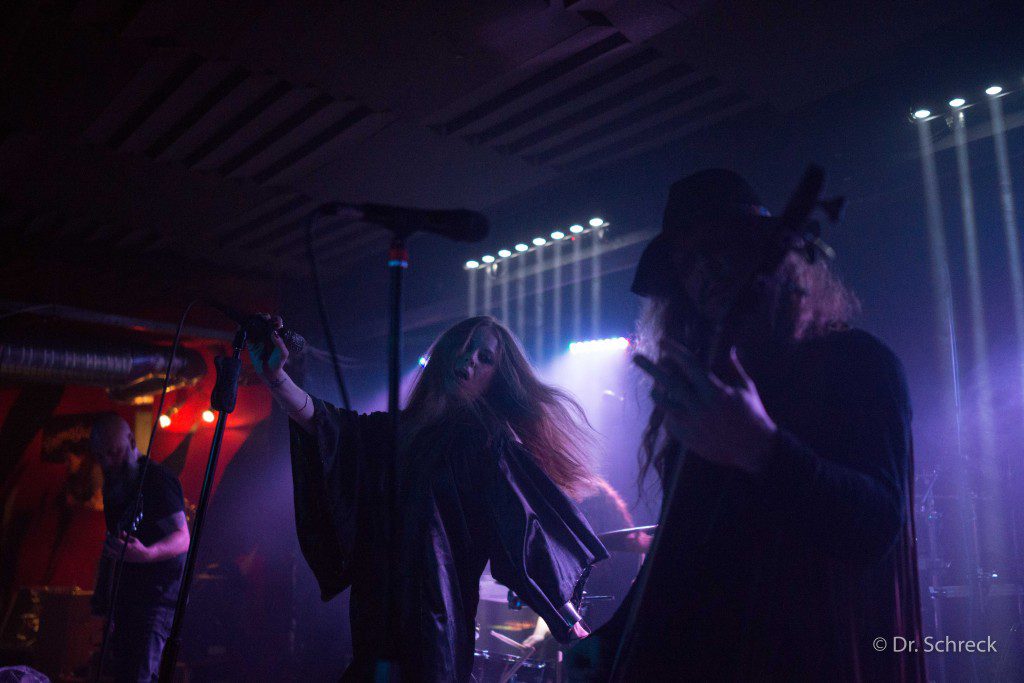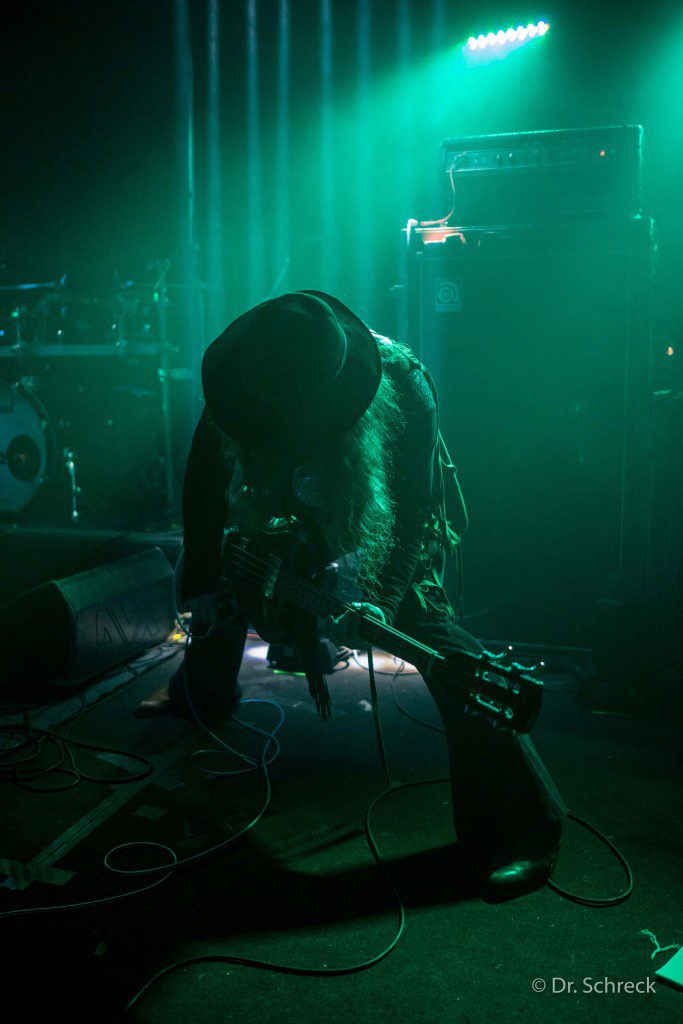 Se trataba de Lucifer, podría ser una banda mas de las que siguen el tren del denominado Occult Rock con fémina en la faceta vocal pero esta banda tenia a dos componentes que destacaban sobre los demás: La cantante es Johanna Sardonis conocida por su paso por The Oath (que al igual que Lucifer editaron en Rise Above Records) pero mucho mas importante (al menos para un servidor) era la presencia de Garry "Gaz" Jennings conocido por su paso por Cathedral durante muchos años y también en Death Penalty en la actualidad.
The band is called Lucifer and it could be set as the somehow called Occult Rock style with females in the vocals but this band had two components stood out above all others: The singer is Johanna Sardonis known for its time at The Oath (which, like Lucifer, released their records on Rise Above Records) but much more important (at least for who writes) was the presence of Garry «Gaz» Jennings known for his past time with Cathedral during many years and now also taking duties on Death Penalty simultaneously with Lucifer .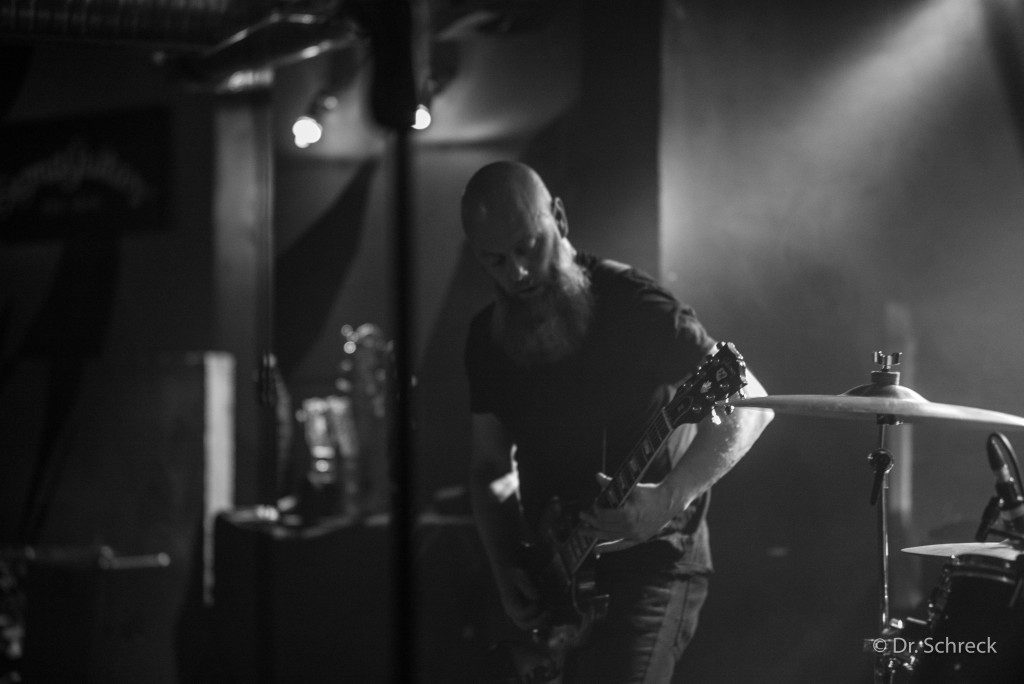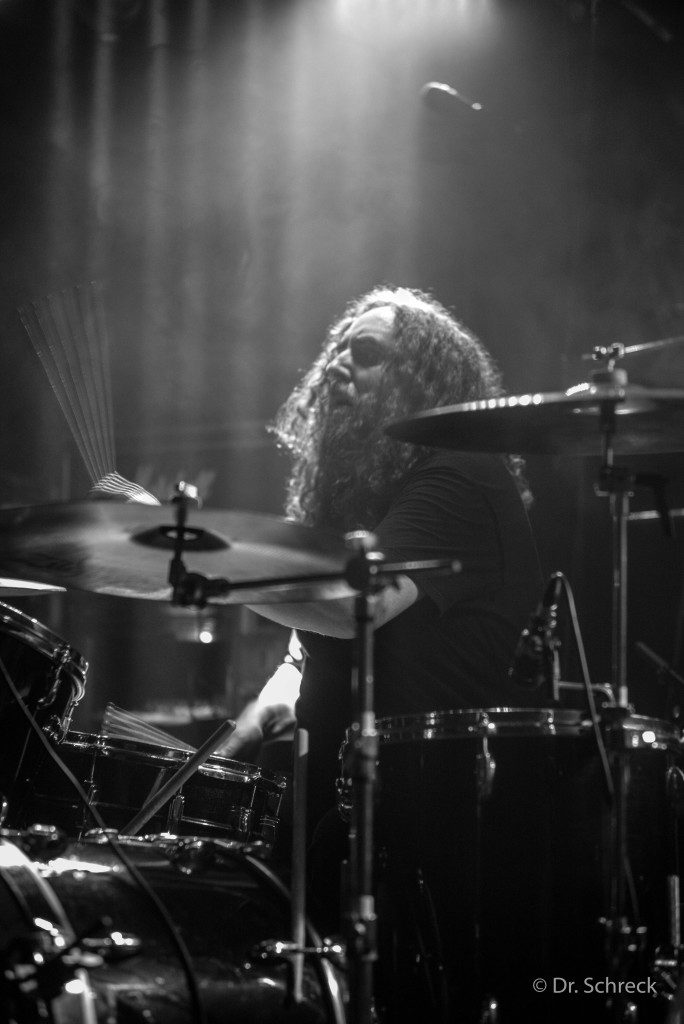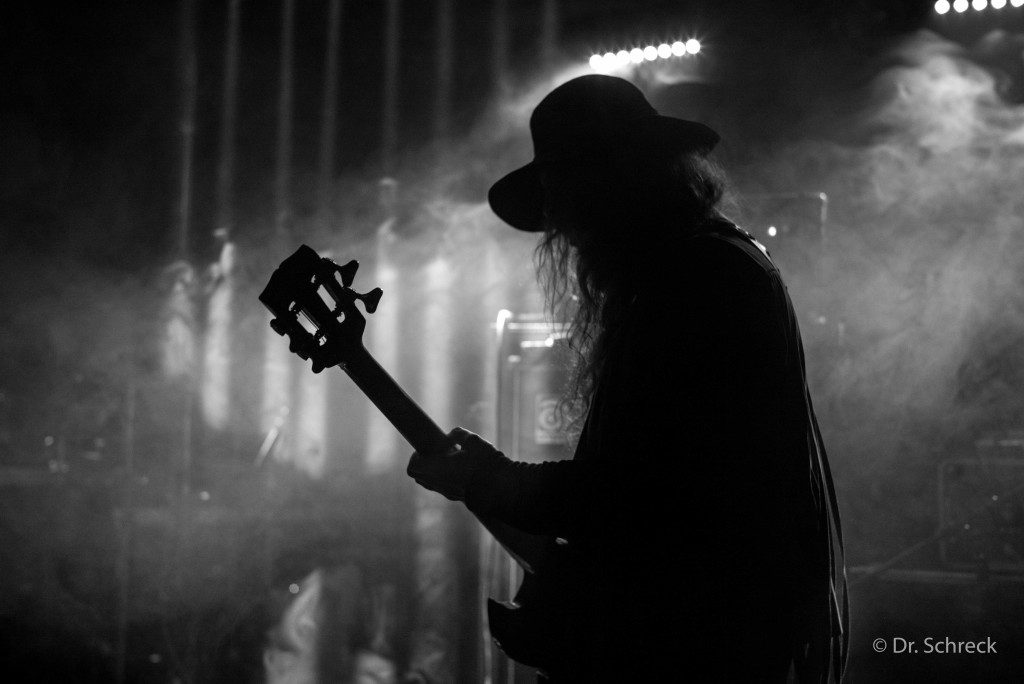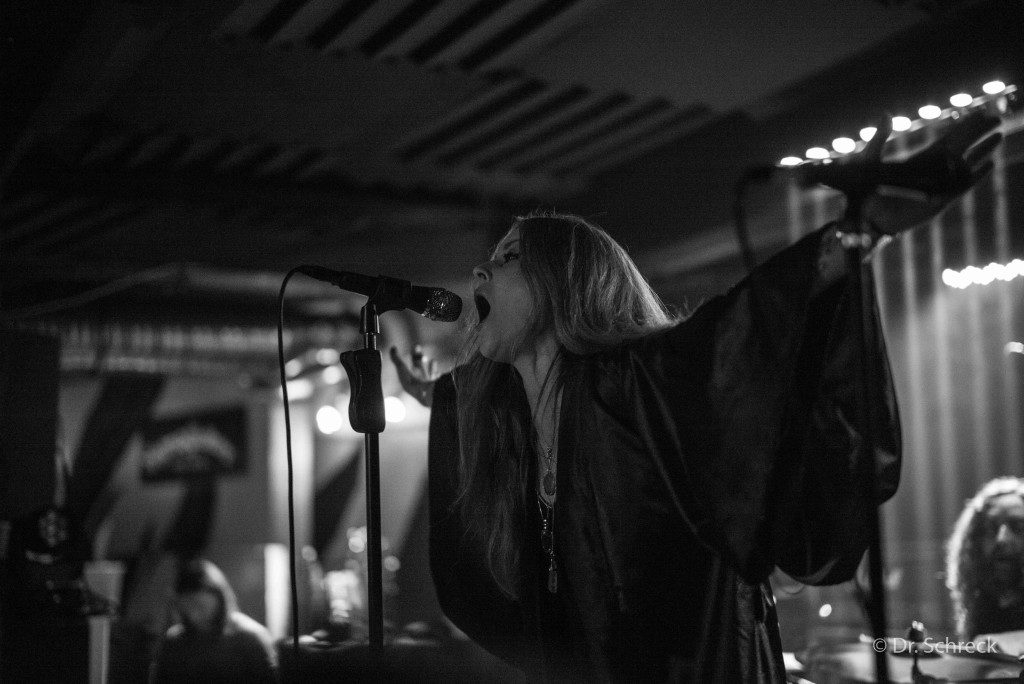 La banda a nivel musical esta muy bien soportada y los riffs de "Gaz" se dejan notar por cada una de las canciones que interpretaron. Lineas melódicas potentes y una base rítmica que parece sacada de los años 60-70 muy dinámica que hacen que musicalmente sea una banda de primer nivel.
The band musically is very well supported and the riffs by «Gaz» are clear on every song they played. Powerful melodic lines and rhythmic base that seems taken from the 60-70s but at the same time very dynamic showed that the band is musically at good level.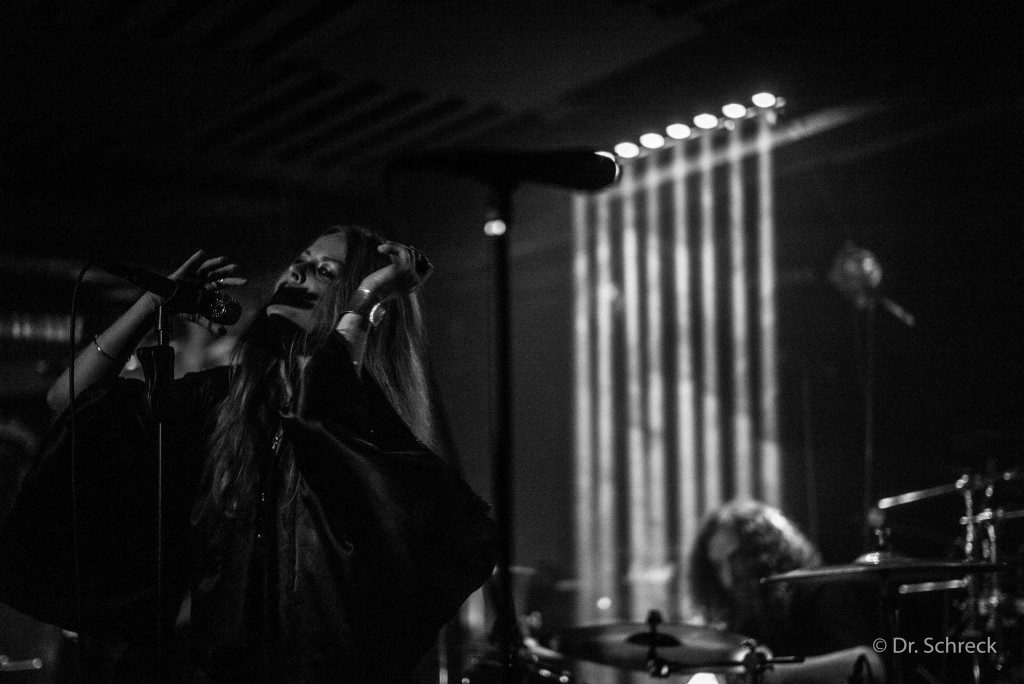 A nivel vocal, podemos decir que en disco las voces están muy conseguidas, pero en directo o al menos ese día (debo comentar que gente que los vio en Bilbao me confirmaron lo mismo) no alcanzaron el nivel adecuado. Y es que, al tratarse de lineas vocales extremadamente melódicas no se puede fallar y un mal día no perdona.
Talking about the vocal part, I can say that the voices at the record are good ones, but live or at least that day (but who saw them in Bilbao confirm the same situation) does not reach an appropriate level. And, due to the extremely melodic vocal lines you can not fail and a bad day it could ruin the band concert.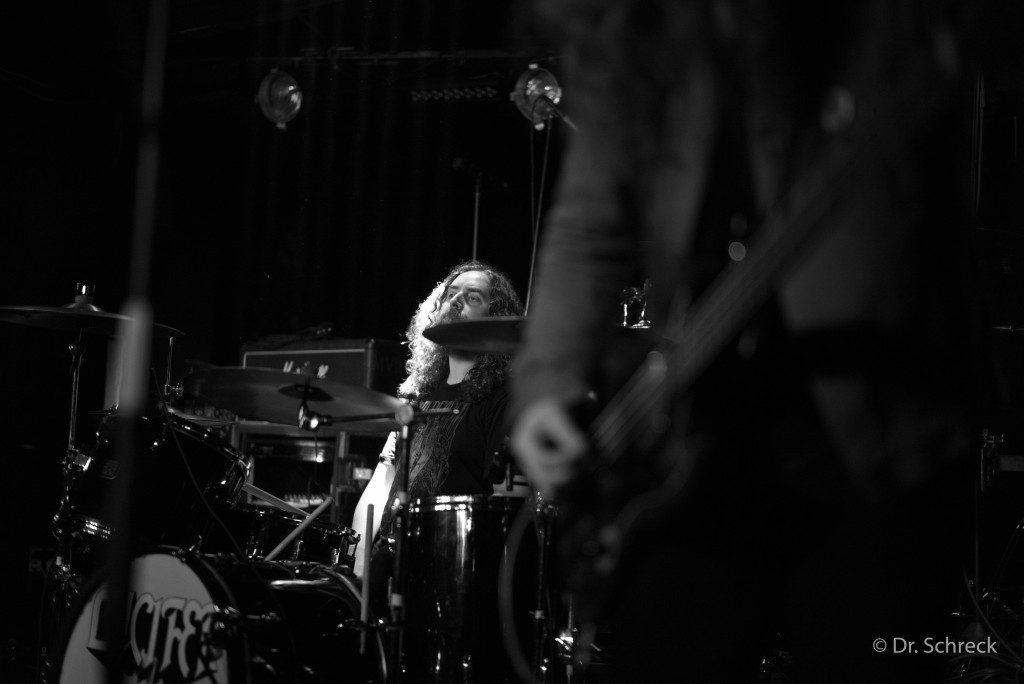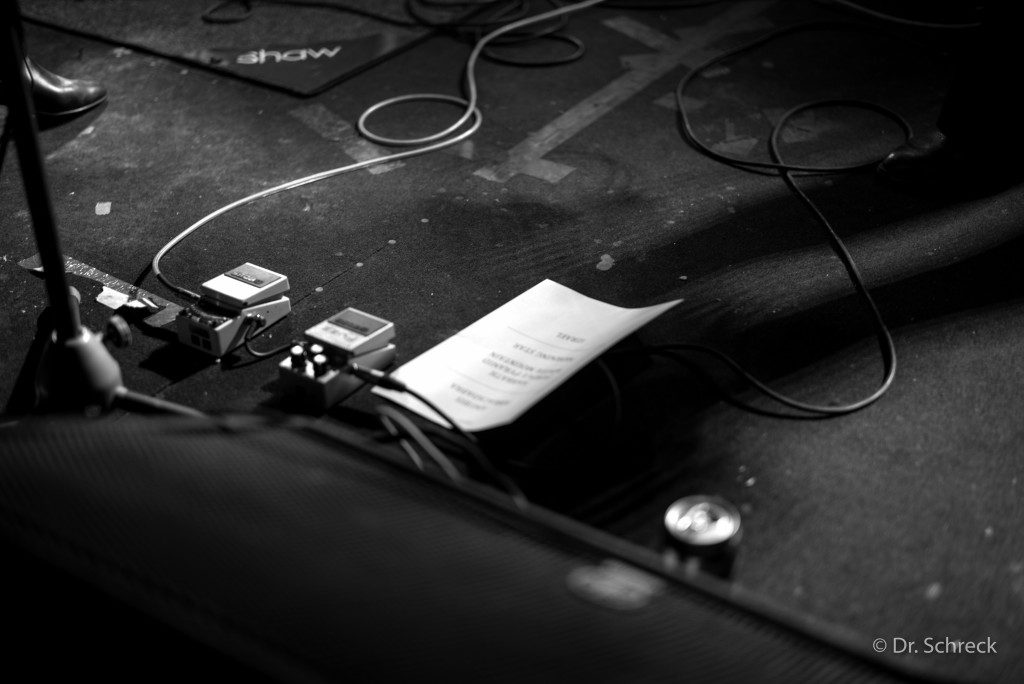 Así que, para mi el concierto fue muy bueno instrumentalmente hablando pero no me llego a nivel vocal.
So, for me the concert was instrumentally very good but I did not get the same level on vocals.
Tras ellos y una rápido cambio de instrumentos, se presentaban en escena Paradise Lost que traían bajo el brazo su nuevo álbum The Plague Within y que está dentro de los mejores álbumes del 2015.
After them and a quick change of instruments , it was time for Paradise Lost to be on stage and they were presenting their new album The Plague Within (for me one of the best albums from 2015).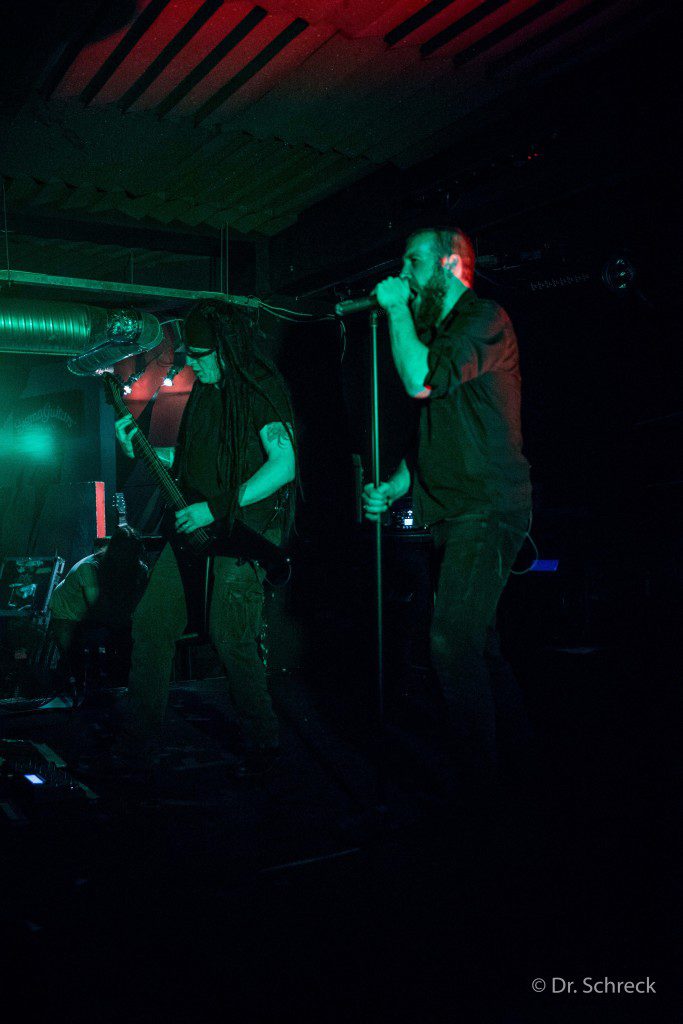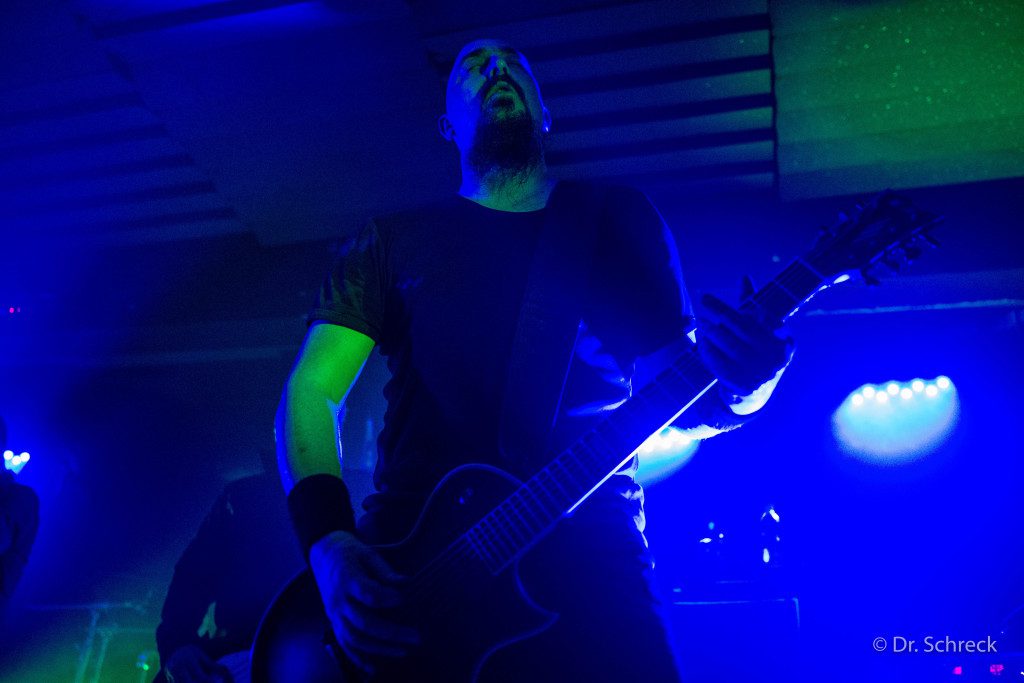 Una vuelta a sus raíces más contundentes retomando los caminos del death metal y mezclado con el Doom más pesado que les ha reportado muy buenas criticas.
A return to their more heavy roots remembering the paths of death metal and mixed with  Doom has got them very good reviews.
Y he de decir que el concierto fue muy bueno en mi opinión.
And I have to say that the concert was very good in my opinion.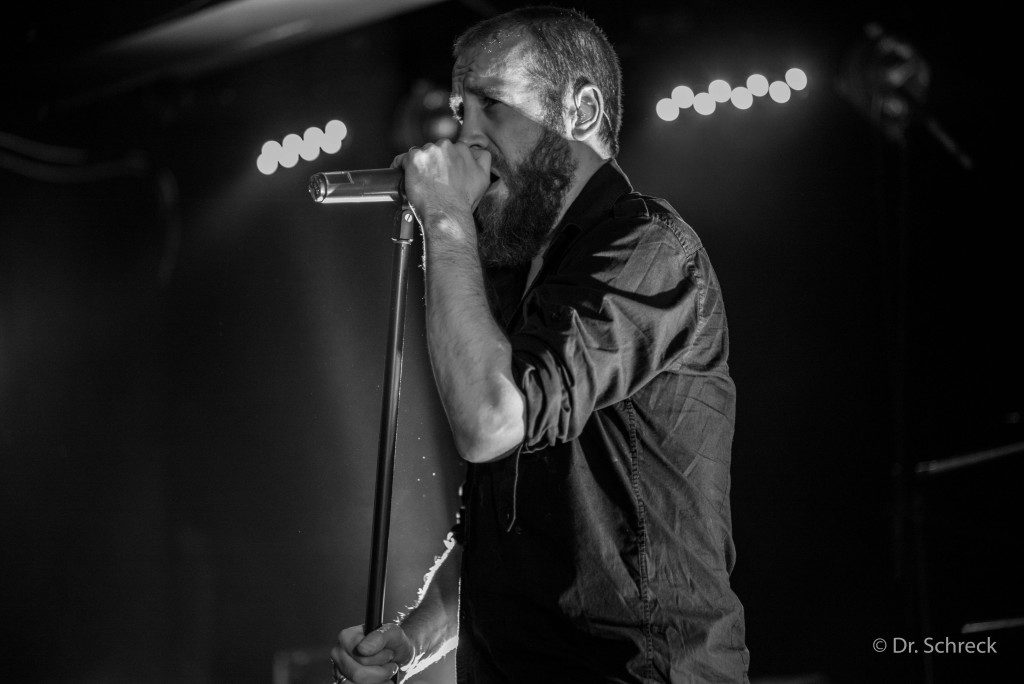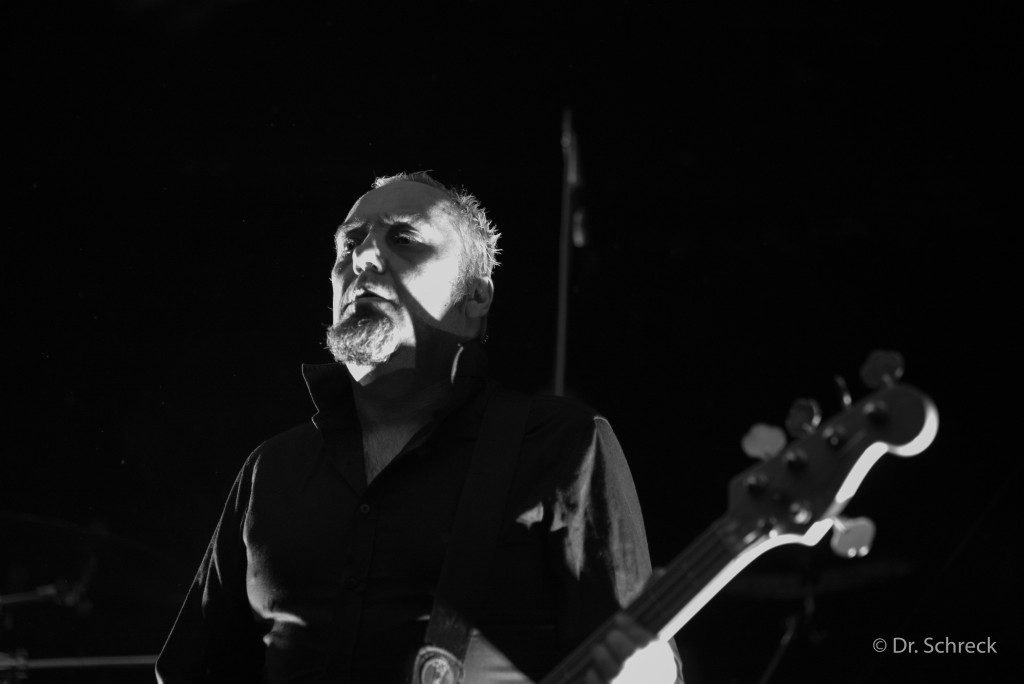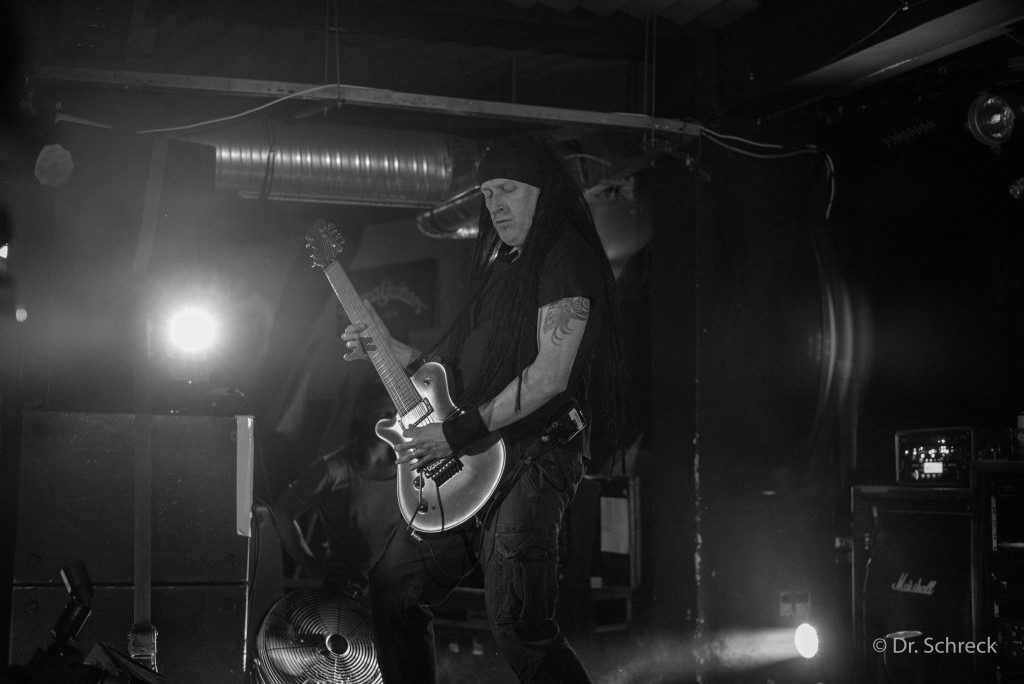 El cantante Nick Holmes siempre ha tenido momentos mejores y peores, recuerdo haberlo visto en el Hellfest y no dejarme muy buen recuerdo y sin embargo verlo en Cracovia años después y estar en un mejor tono. Pero debo decir que seguramente la vuelta a unos sonidos mas duros acompañados por unas voces ahora mas raspadas y algo menos melódicas les ayudo a preparar un repertorio muy adecuado.
The singer Nick Holmes has always get better and worse performances, I remember seeing them at the Hellfest and I don't get good memory and a few years later I saw them in Krakow with a great performance. But I must say that probably the come back to the heavier sound together with a vocal lines more scraped and less melodic helped them for a suitable repertoire that helps a lot Mr. Holmes to do a great concert.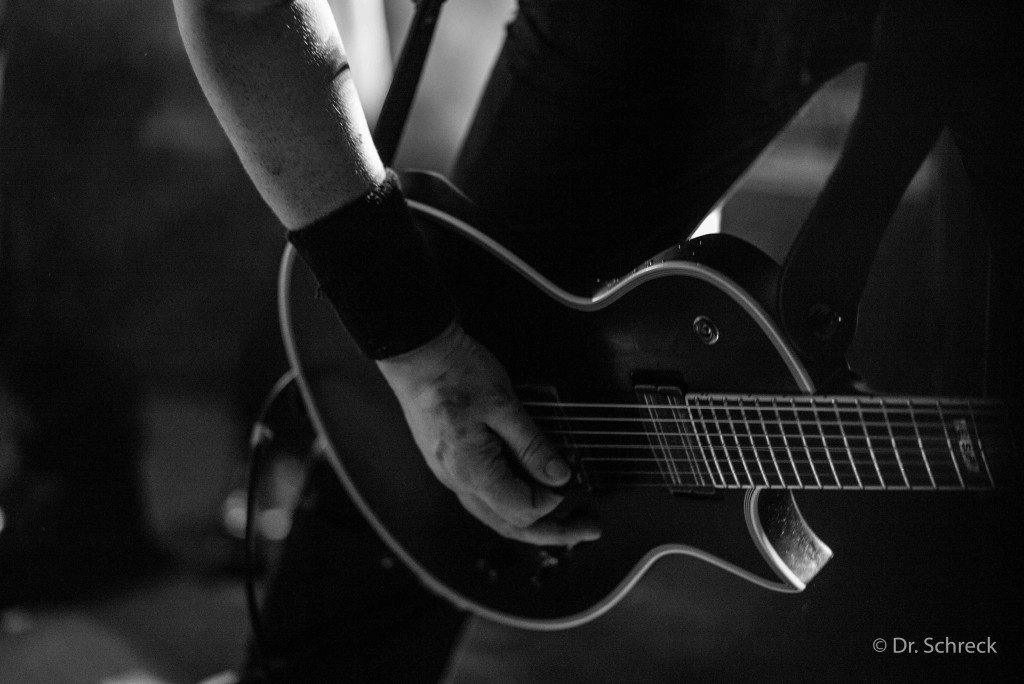 No Hope in Sight
Widow
The Painless
Erased
Praise Lamented Shade
Victim of the Past
Enchantment
Flesh from Bone
Beneath Broken Earth
As I Die
Requiem
Bises:
Return to the Sun
Faith Divides Us – Death Unites Us
An Eternity of Lies
Say Just Words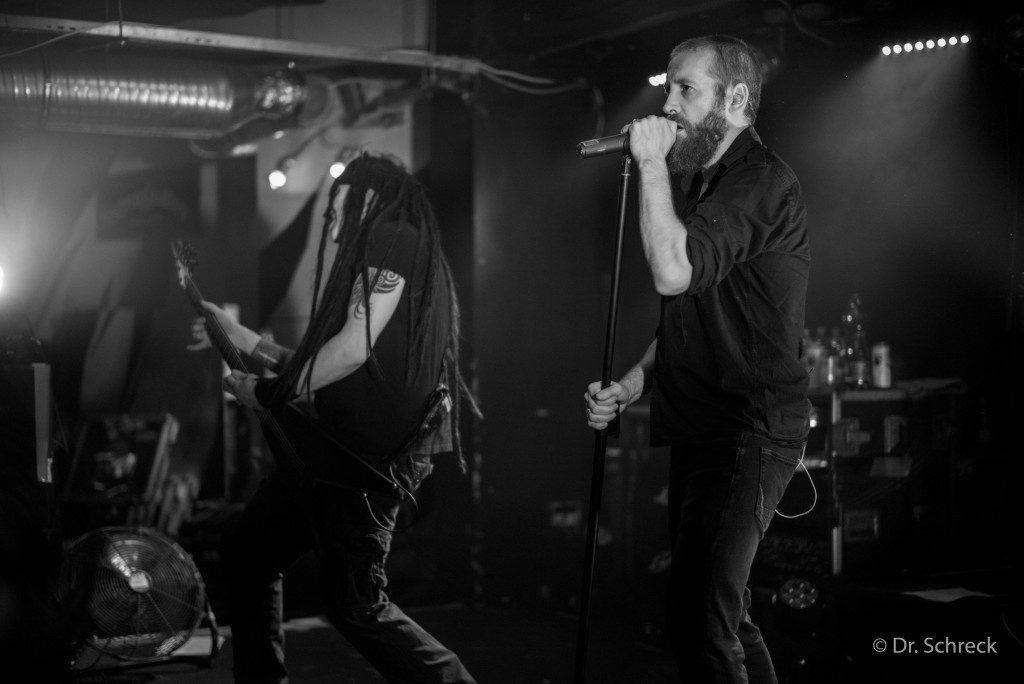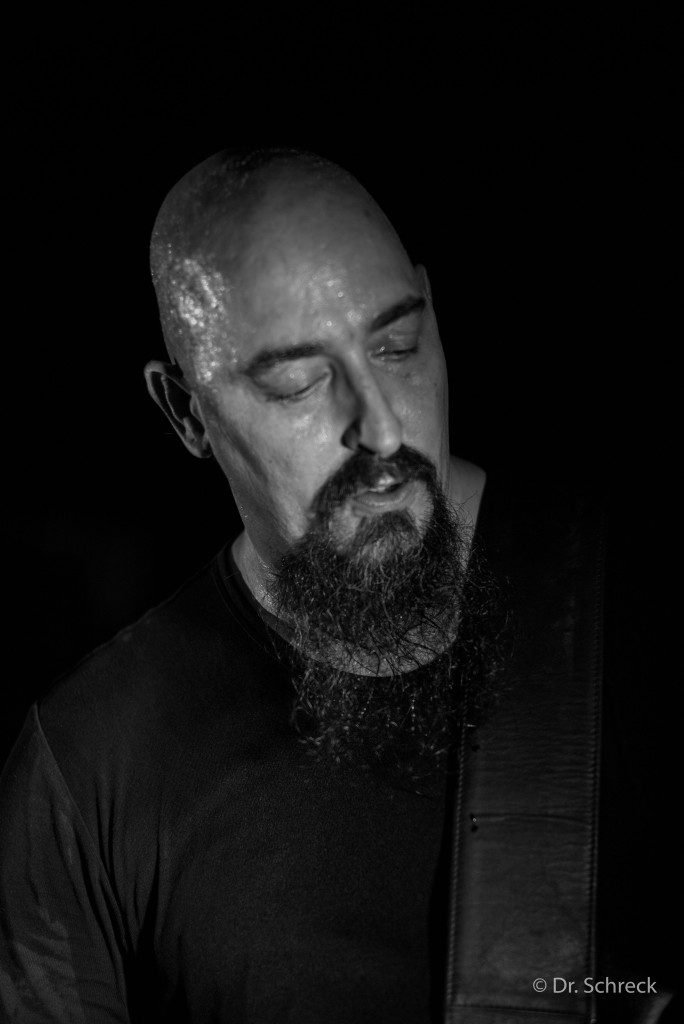 Canciones del ultimo disco como Beneath Broken Earth o Return To The Sun (con un riff fantástico que te pone los pelos de punta) se combinaron con grandes éxitos como Widow o As I Die sin problemas.
Last album songs like Broken Earth Beneath or Return To The Sun (with a great riff that puts you goosebumps) were combined with hits like Widow or As I Die smoothly.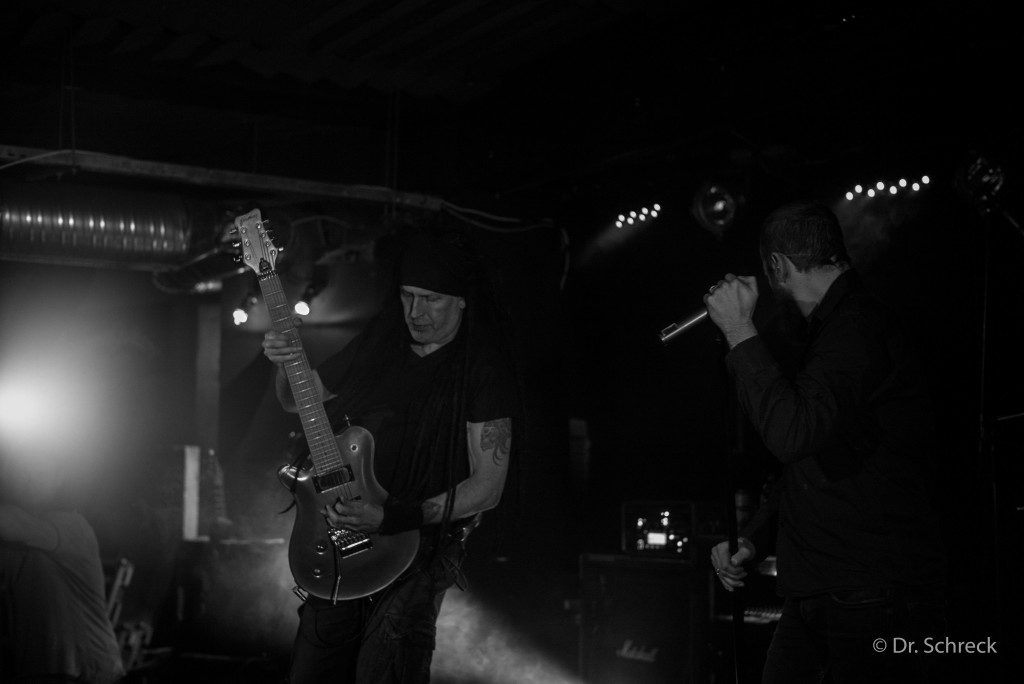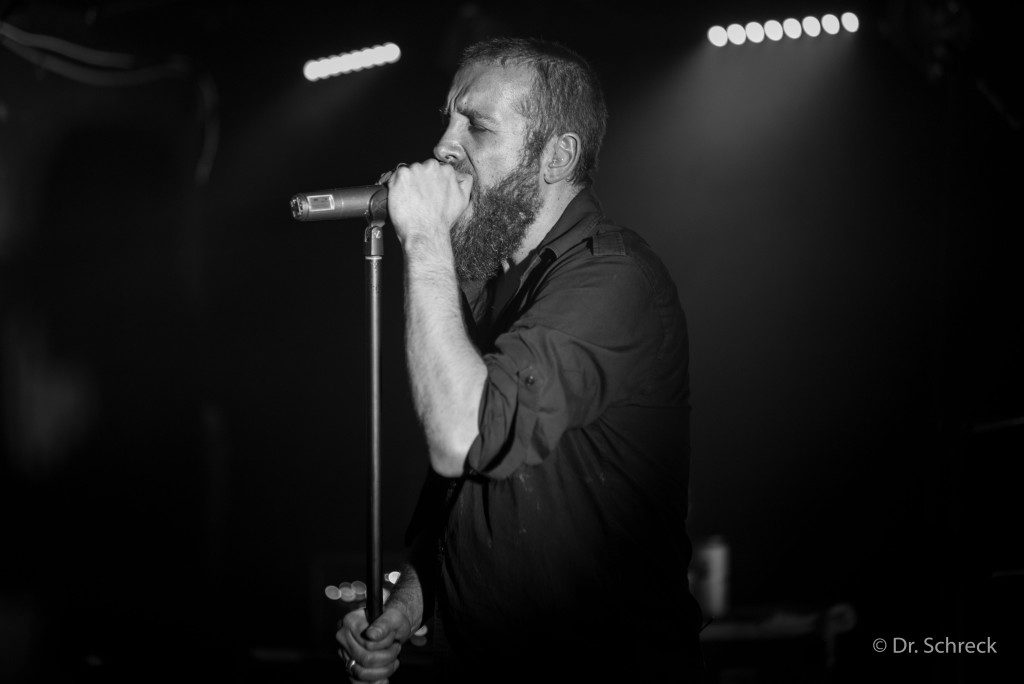 En resumen, un concierto fantástico de Paradise Lost que demuestra que su vuelta a sus temas mas duros como resultado de la experiencia de Gregor Mackintosh en Vallenfyre y de Nick Holmes en Bloodbath ha sido una jugada maestra.
To summarize, a fantastic concert from Paradise Lost showing that their return to the heaviest sounds as consequence of Gregor Mackintosh times in Vallenfyre and Nick Holmes in Bloodbath was a masterstroke and get the band full of new energy.
Otro de los discos del año del 2015. Paradise Lost y su The Plague Within.
Another of these ones called Albums of the year from 2015, Paradise Lost and their The Plague Within.