Soulstone Gathering
Lo primero que siempre toca al desplazarse a un festival es localizar el alojamiento  y una ves solucionado ese punto, solo era cuestión de encontrar el Museo Nacional en Cracovia. Justo al lado se encuentra la sala Rotunda que es el lugar en el que se desarrollaba tan magno evento.
The first thing that I always need to do when I go to a festival is find the housing and once that point is solved, ion that case t was just a matter of finding the National Museum in Krakow. Right next door is the Rotunda club, the place where the festival is supposed to be done.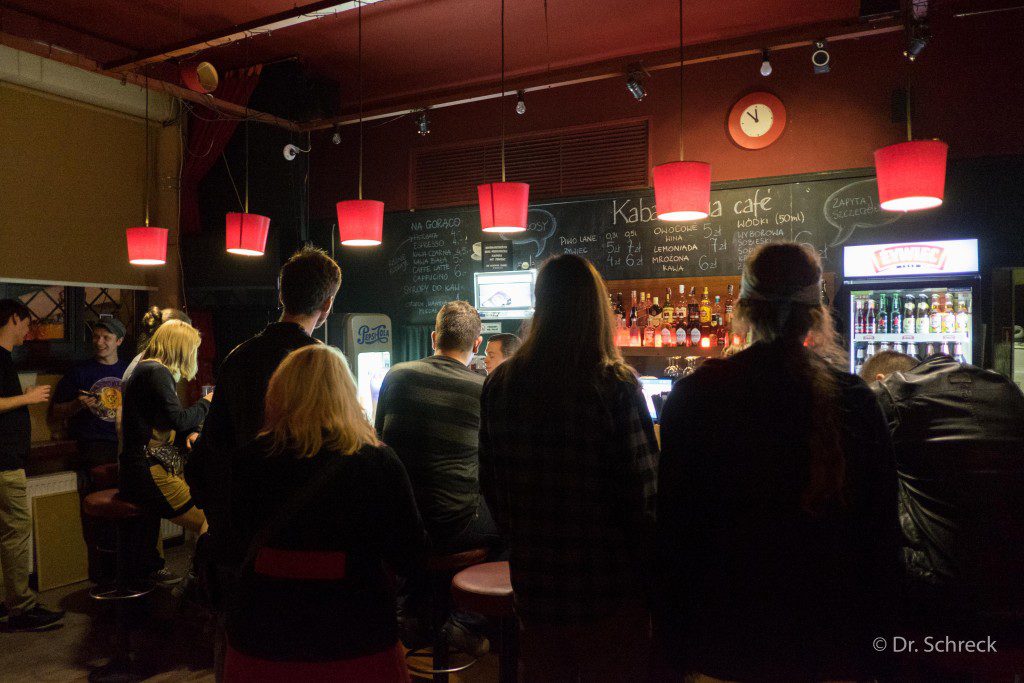 La sala está situada en un viejo cine con un ligero aspecto decadente. Nada especial decora las paredes o las estancias pero si se puede señalar que un ambiente bohemio embarga el local. Un sitio con alma en el que desarrollar un festival de música Doom y Stoner.
The club is located in an old cinema with a slightly decadent look. Nothing to decorate walls or rooms but if its worth point out that a bohemian atmosphere overwhelms the club. A place with soul to celebrate a festival of Doom and Stoner music.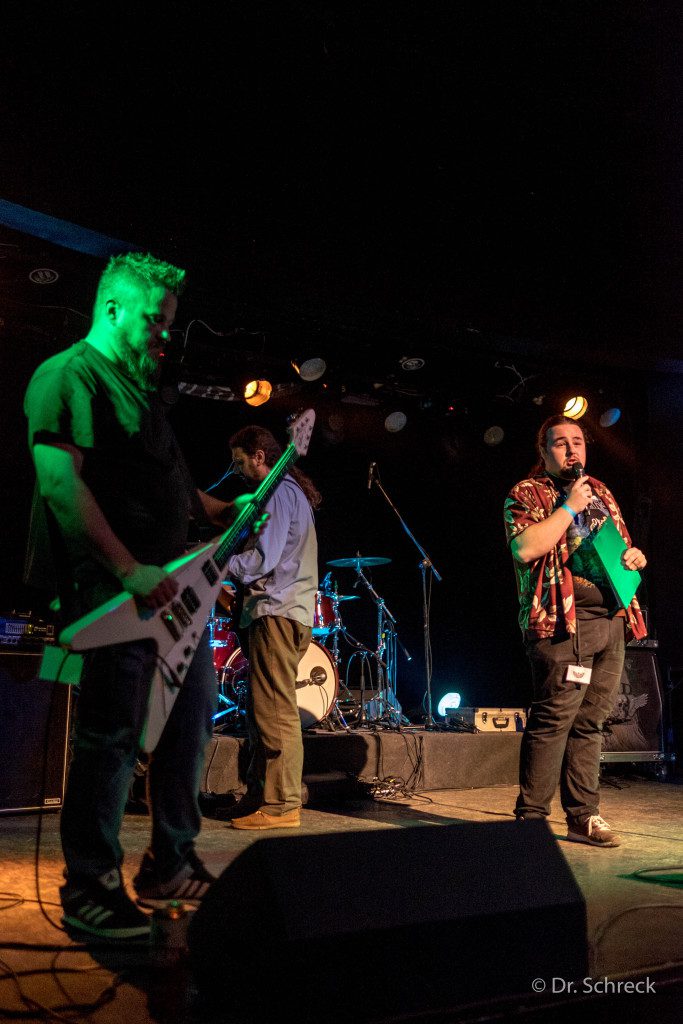 Con las cervezas por un precio rondando el euro o euro y medio en la moneda local, era una invitación a tomarse algo mientras asistía a los conciertos. Una vez en el interior nos acompaña el sentimiento del viejo cine para pasar y observar el programa del día.
With a beer pint for around 1-1,5 euros in local currency, it was just affordable to drink a beer while attending the concerts.Once inside the hall for the concerts the feeling of the old film surround us and we are delighted to see what we will get in today's program.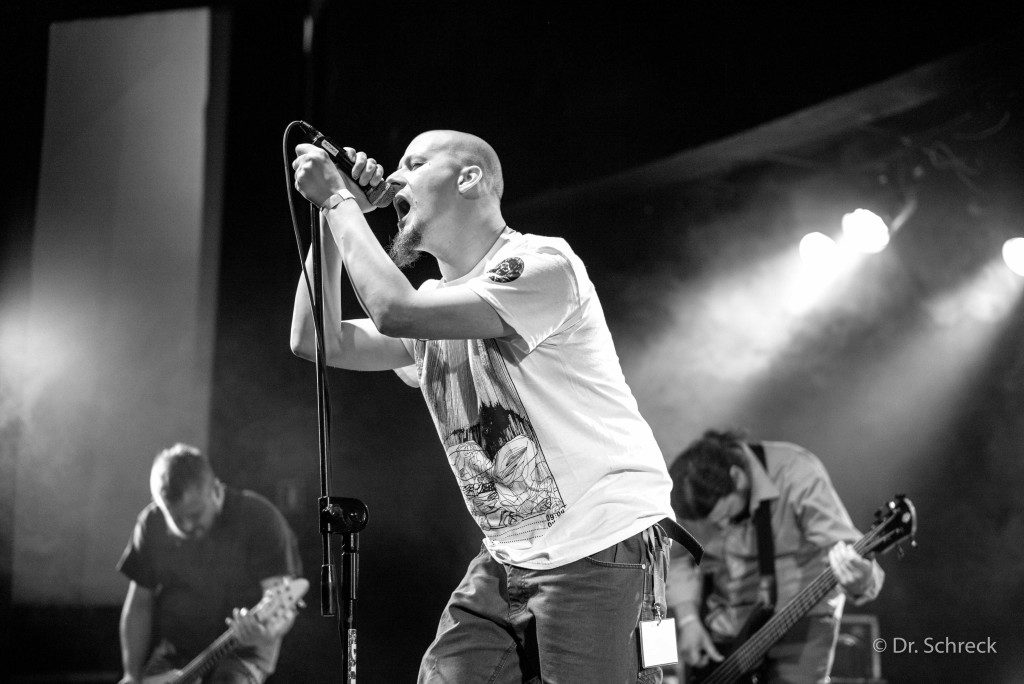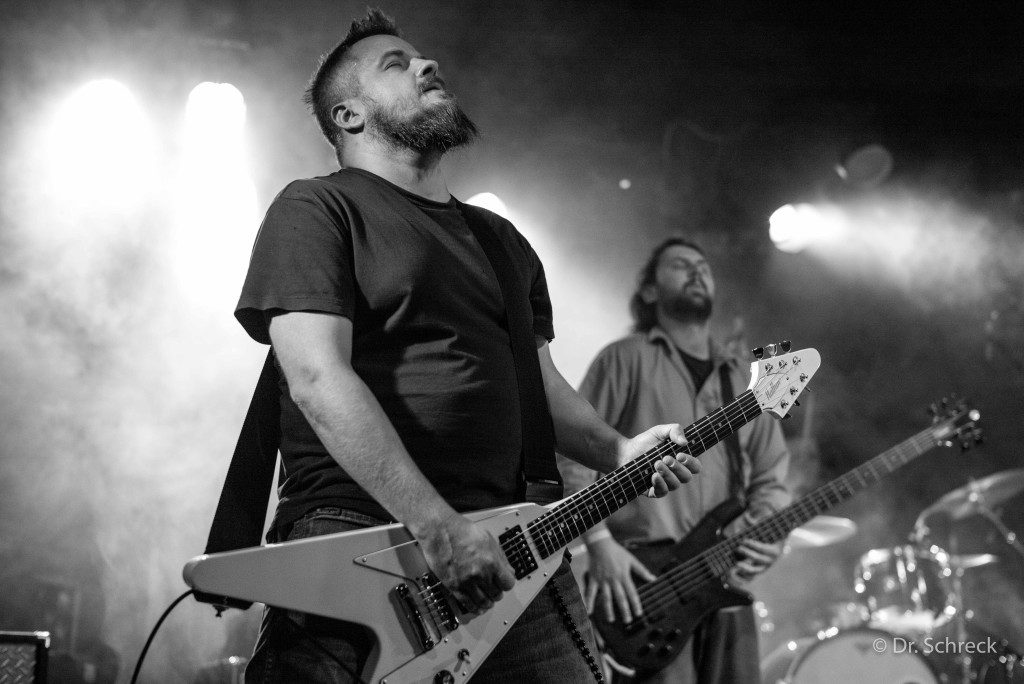 El primer grupo en entrar en acción es Coffinfish un grupo de Cracovia que desarrolla un estilo Stoner metal con algunos elementos de Doom.
The first band to perform was from Krakow,  Coffinfish made a Stoner metal with some elements of Doom quite in a slower path.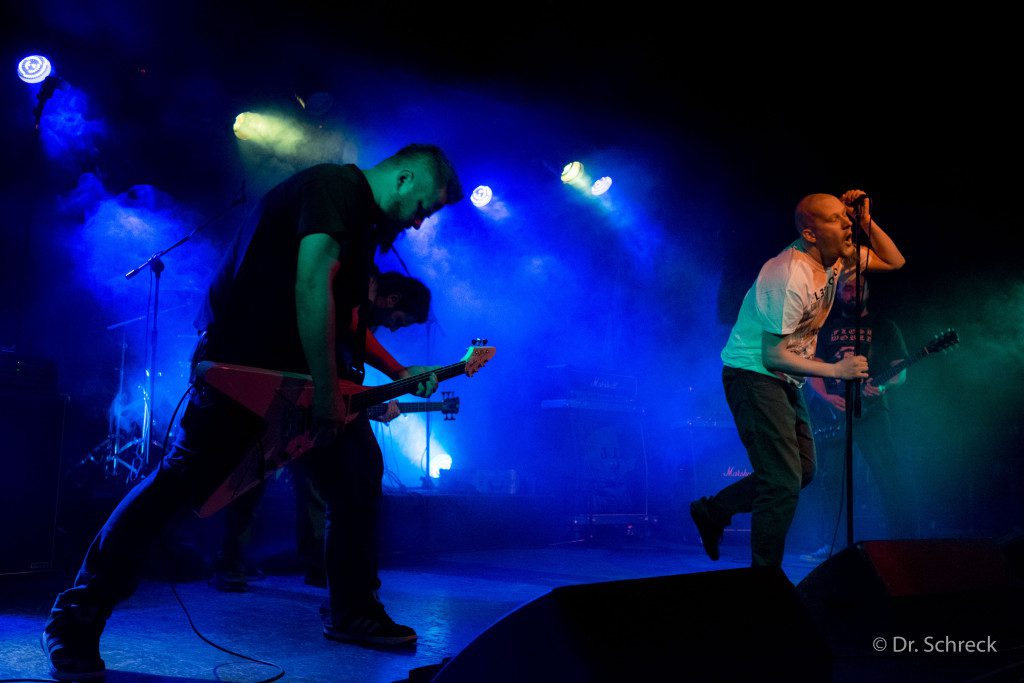 La propuesta fue interesante pero había muy poco público presente en el comienzo del festival. Aún así la banda puso todo de su parte para despertarles. Siendo el primer grupo de la velada, al menos consiguieron que la gente comenzase a moverse.
The proposal was interesting but there was a small amount of people at this time. Still the band put everything in their hands to awaken. As the first group of the evening, at least they warm up people for the next bands.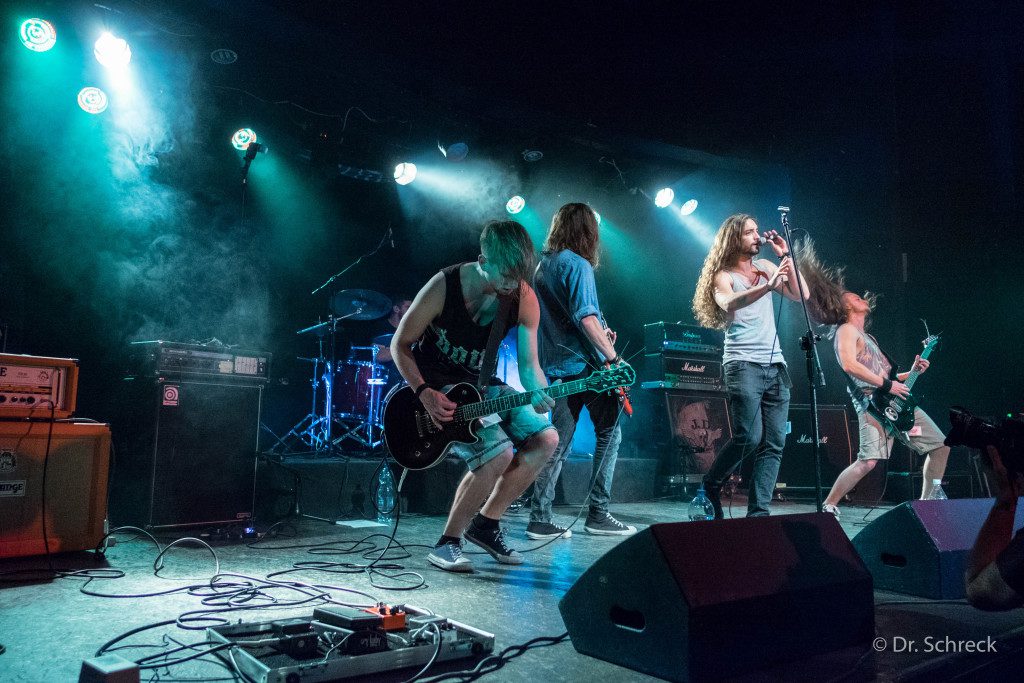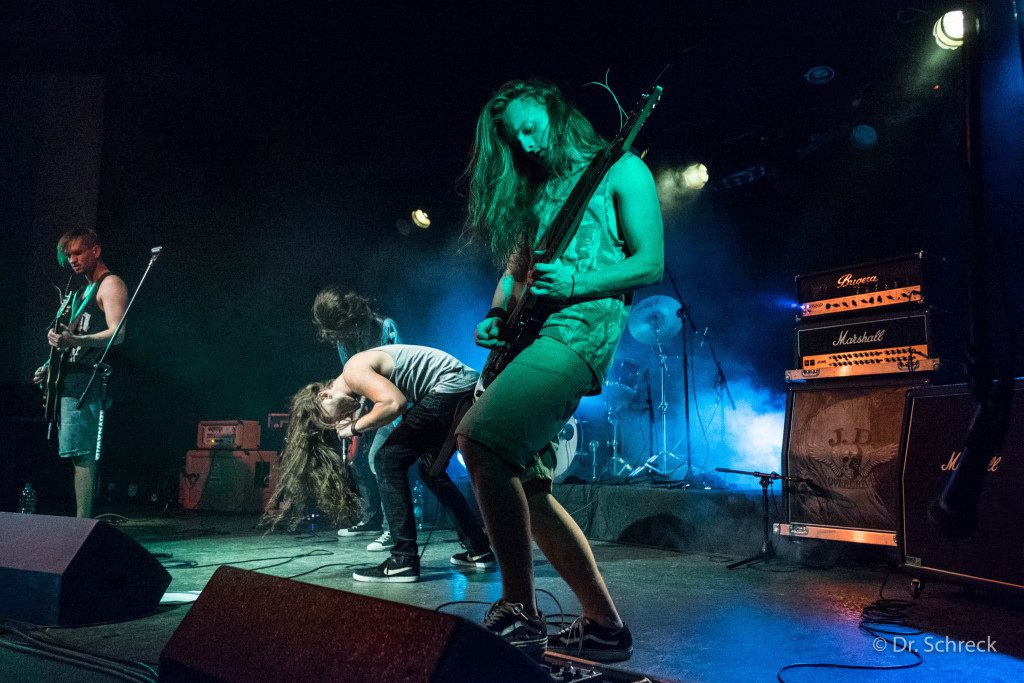 El siguiente grupo en tocar fue Sun Dance, un grupo mucho más joven que el anterior o al menos así lo parecían los miembros que lo conformaban. Mucho mas enérgicos y activos que los anteriores fueron capaces de dar un energía increíble en el escenario así lo reconoció el público que estaba en su actuación. Dejaron una buena sensación y es un grupo que puede seguir evolucionando de manera positiva.
The next band to play was Sun Dance, a much younger band than the previous or, at least, so it seemed to me the members. Much more energetic and active than previous band were able to give an incredible energy on stage and the audience present in their performance recognized them. They left a good feeling and it is a band that could bring us some more fine music in the future.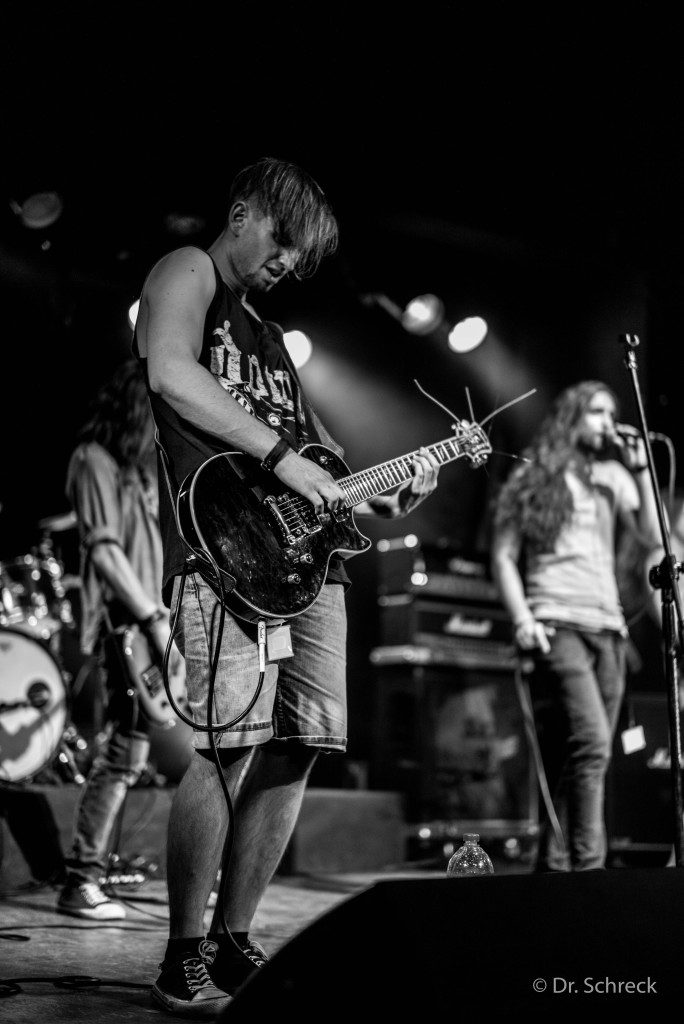 Como anécdota indicar que el guitarrista de este grupo fue la persona (o una de las personas) que se encargo de organizar el festival. Bravo por él!!
Worth to mention that one of the guitarist of this group was the person (or one of them) that organize the festival. Cheers to him!!!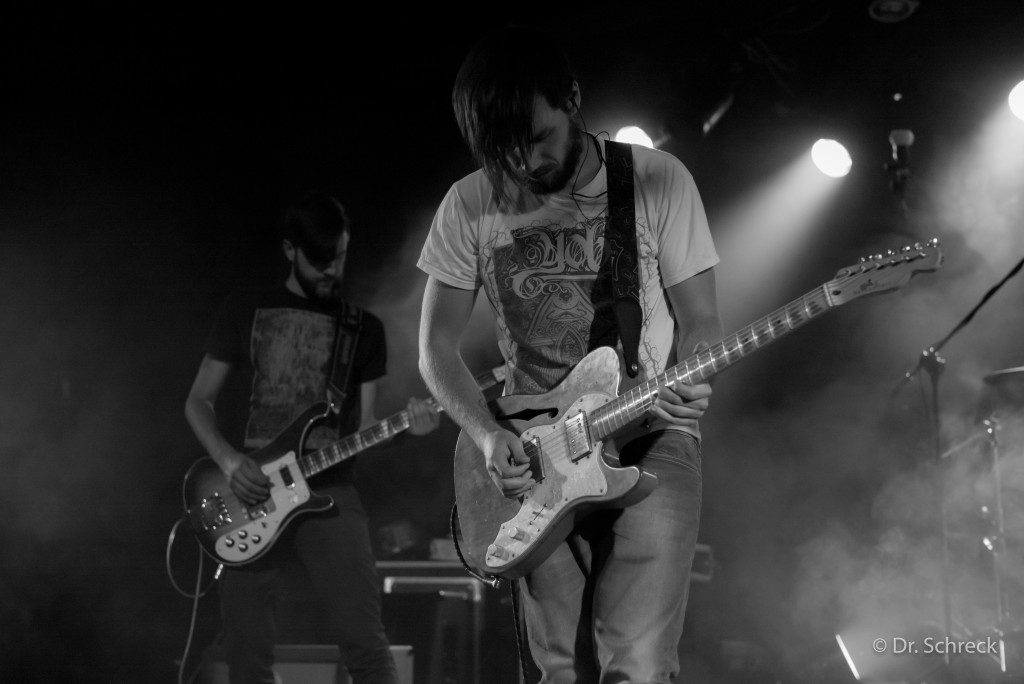 La siguiente banda y ya tercera del plantel fue una banda de Ucrania llamada Somali Yacht Club y que nos dejó con la boca abierta con su repertorio de música psicodélica mezclada con ramalazos de Stoner trayendo a la memoria a lo que ya había visto en el Days Of The Ceremony en Varsovia por parte de Weedpecker. Consiguieron unas atmósferas sonoras que te evadían del momento y fue una de las sorpresas de la jornada.
The next band was one called Somali Ukraine Yacht Club and they left us with our mouth open with their repertoire of psychedelic music mixed with bits of Stoner bringing to my mind the experience what I had seen Weedpecker at the Days Of The Ceremony in Warsaw. They got some sound atmospheres that got you high and they were one of the surprises of the festival.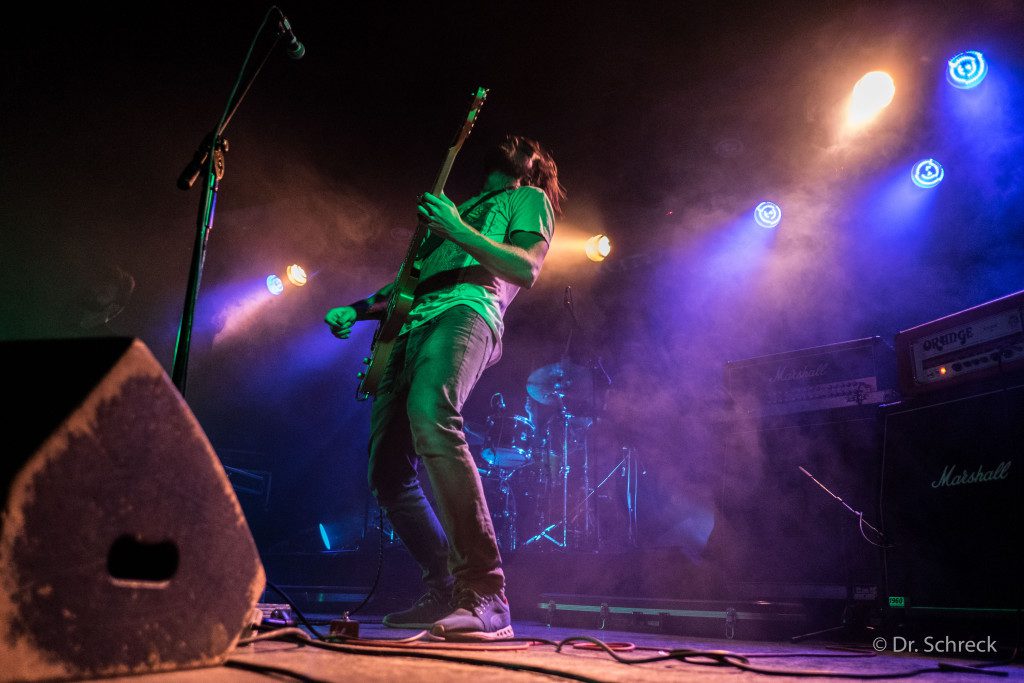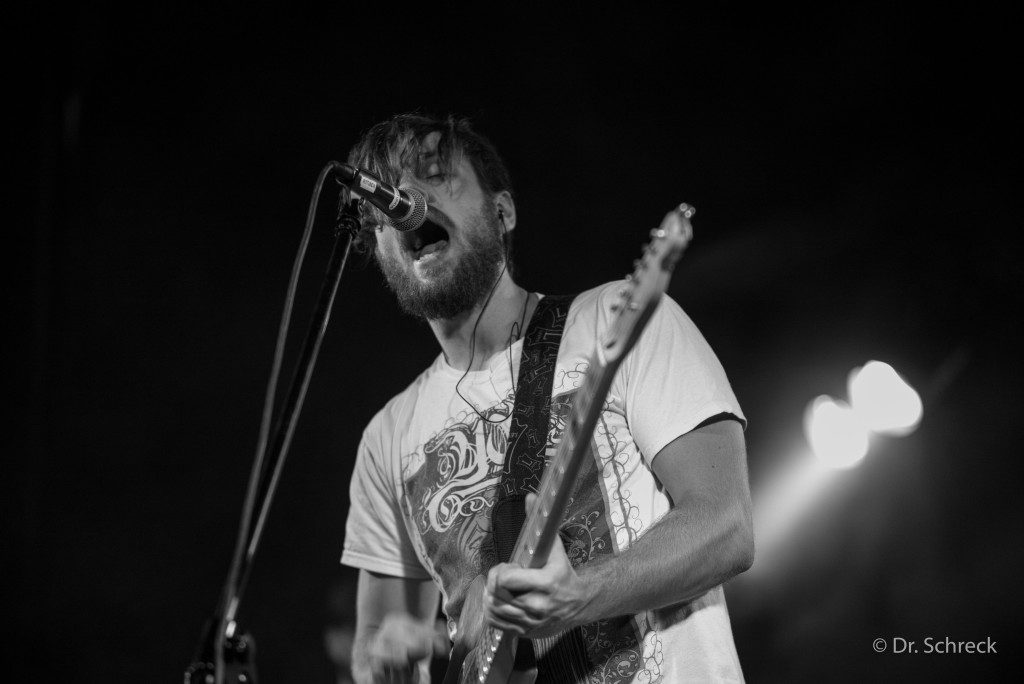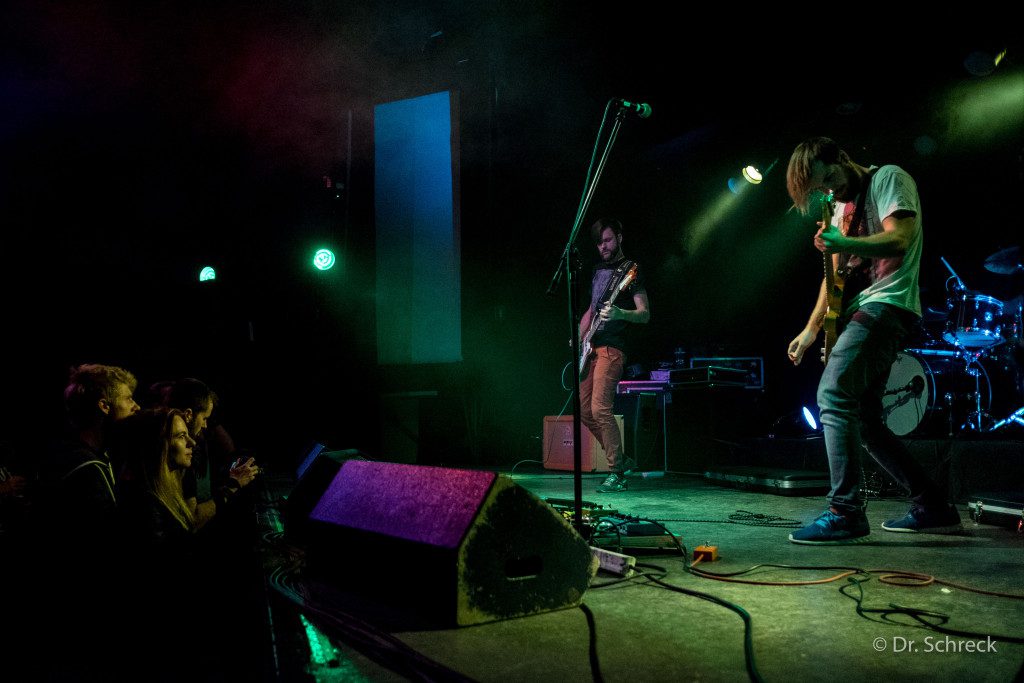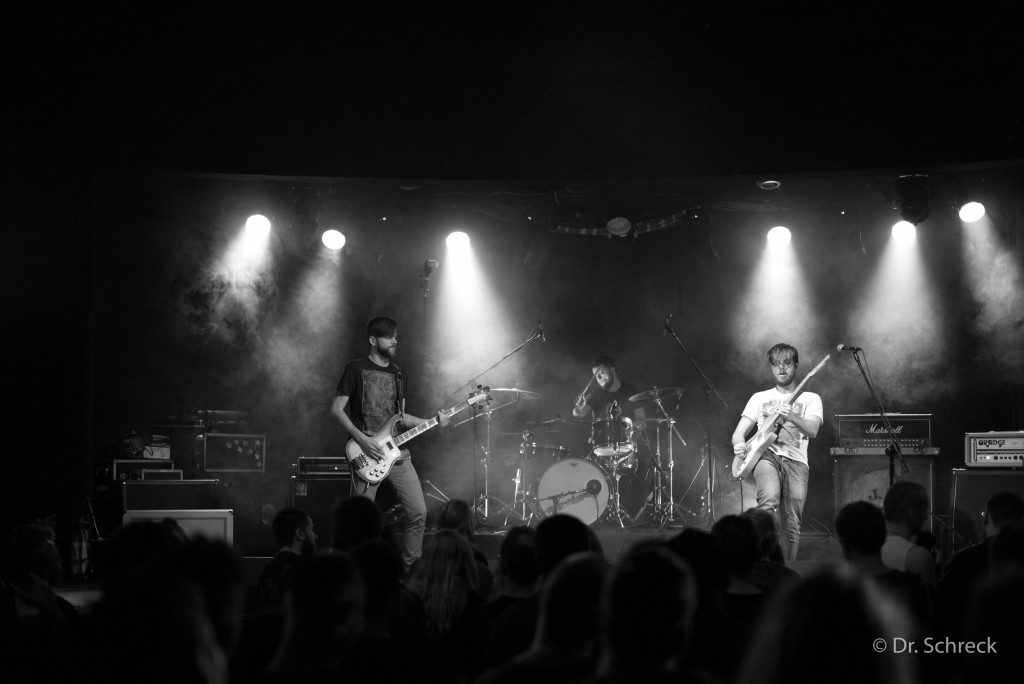 Tras ellos llegaba el momento de JD Overdrive que bebe de las fuentes que cultivó BLS pero a la que ellos le añadieron un punto mas vacilón y de mala leche. Al mismo tiempo el buen rollo con el público fue muy positivo para una banda que ocupa una posición intermedia en el cartel pero que consiguió conectar con la audiencia.
After them, it was the time for JD Overdrive who take their inspiration from the route taken by BLS (Black Label Society) but they added more humor to the formula. At the same time the good feeling with the public was very positive for a band that was set an intermediate position in the festival but they managed to connect with the audience.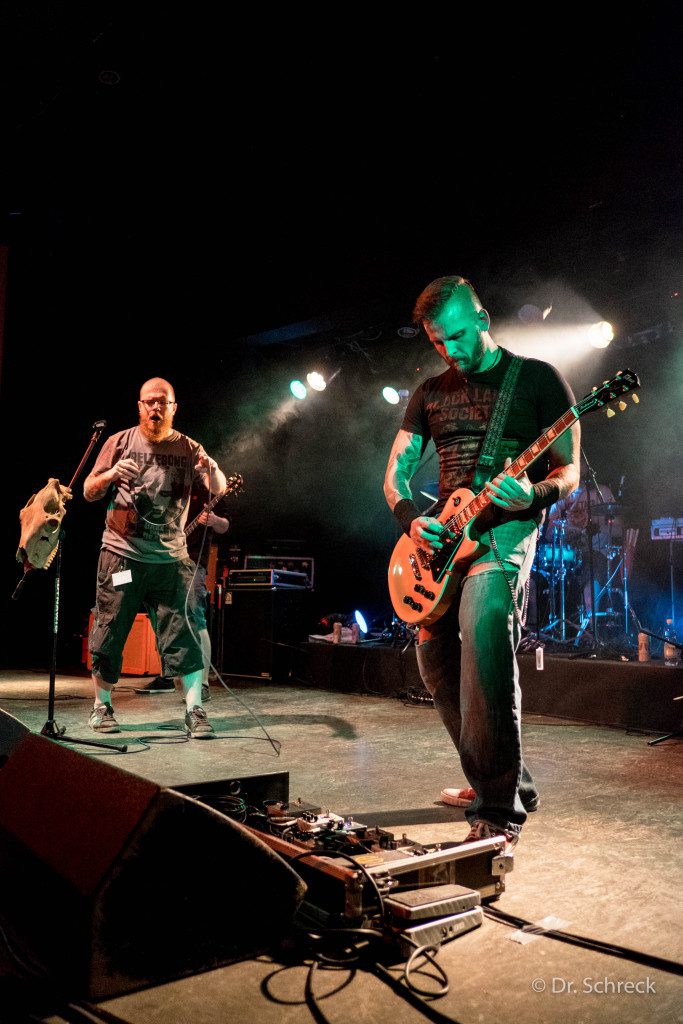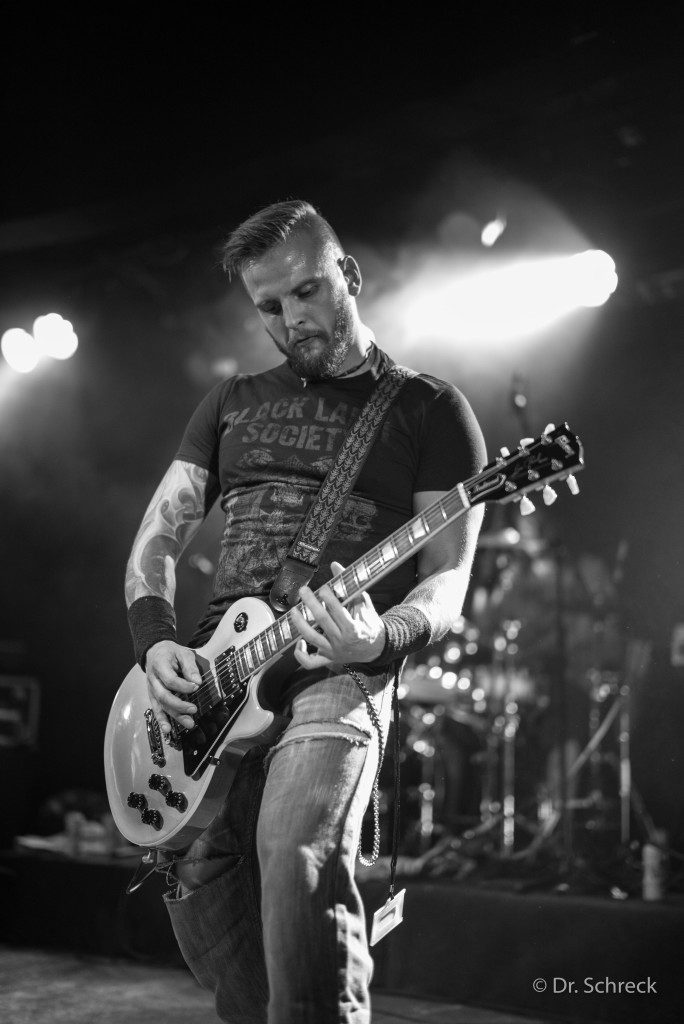 Lo dieron todo y el público empezó a hacer los primeros "pogos» del festival. Muy entretenidos.
They gave everything and the public did the first «pogos» at the festival. Very entertaining.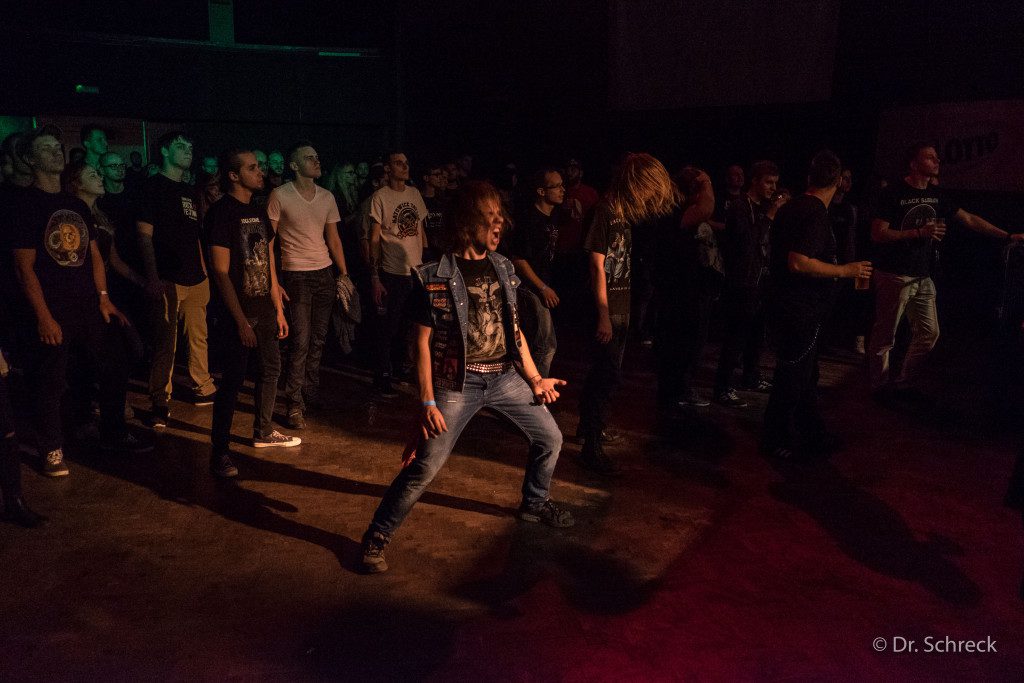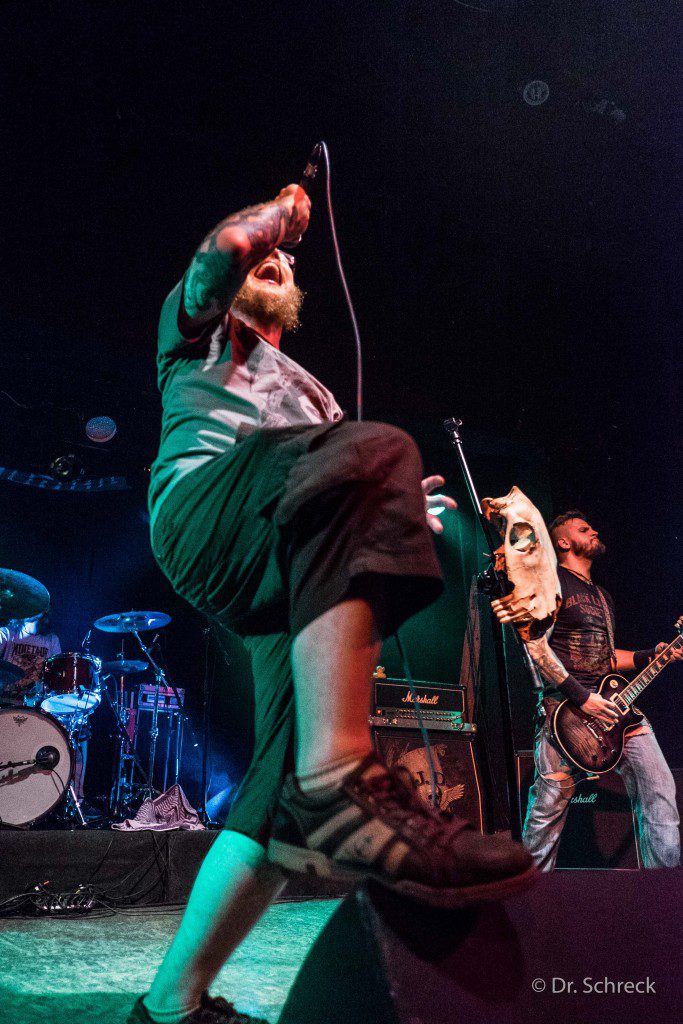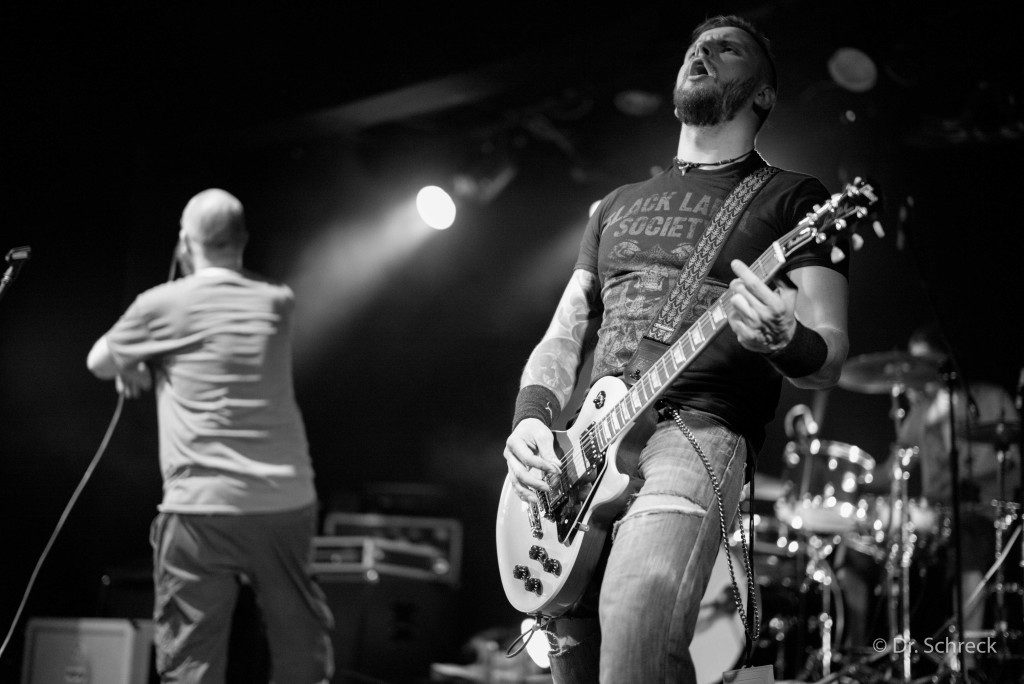 Y, una vez que nos habíamos tomado un merecido descanso, llegó el momento de Sunnata. Con unas luces tenues para dar un ambiente mas oscuro y que se aclimatase mejor a la oscuridad de la música del grupo. Era el momento de un Doom contundente como no se había presentado en el resto del festival. Duro, intrigante y con una fuerza especial. En cierto modo me recordaron a Tryptykon en los sonidos torturados.
And once we had taken a short break, tit was the time for Sunnata. With some dim lights to give a darker environment got a better climate to the dark music of group. It was time for a strong Doom as it hadn't seen during the rest of the festival. Hard, intriguing and with a very special mood. In some ways they reminded me Tryptykon with their tortured sounds.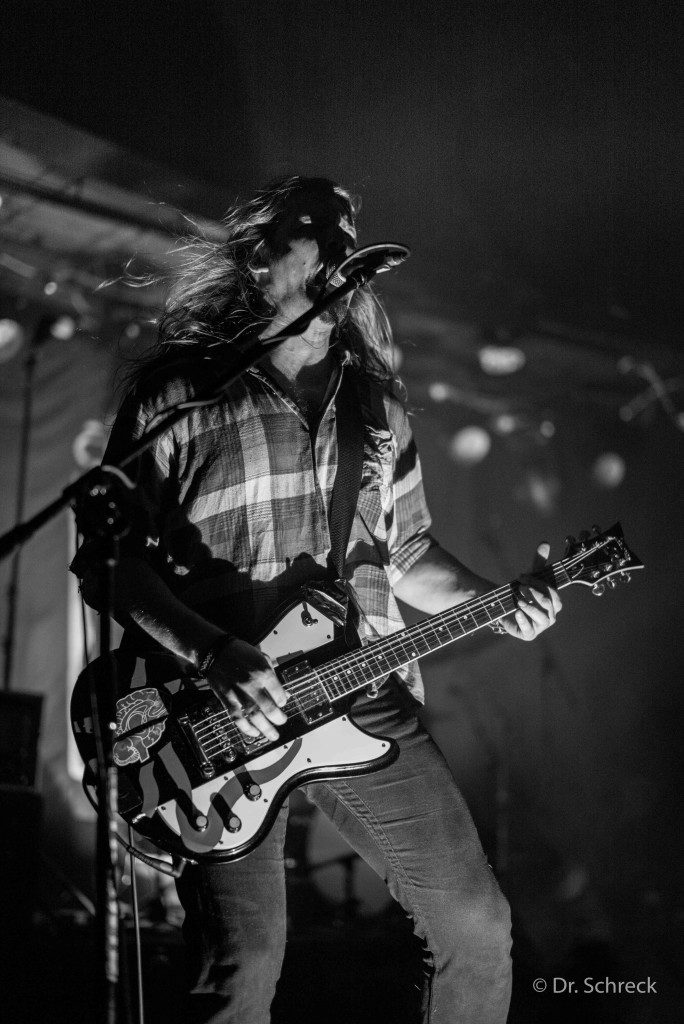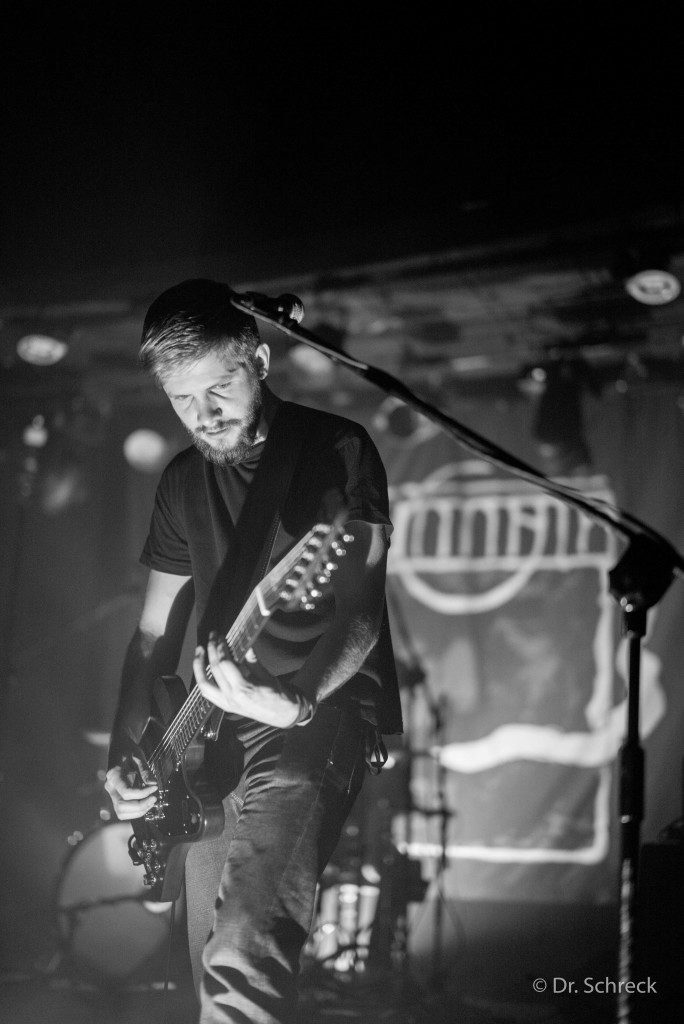 Las luces (o la ausencia de ellas) daban un empaque especial y misterioso a la presentación en directo. Otra grata sorpresa de un grupo que visualmente y musicalmente fueron muy interesantes.
The lights (or lack of them) gave a very special and mysterious  layer to their live performance. Another pleasant surprise of a band that were visually and musically interesting.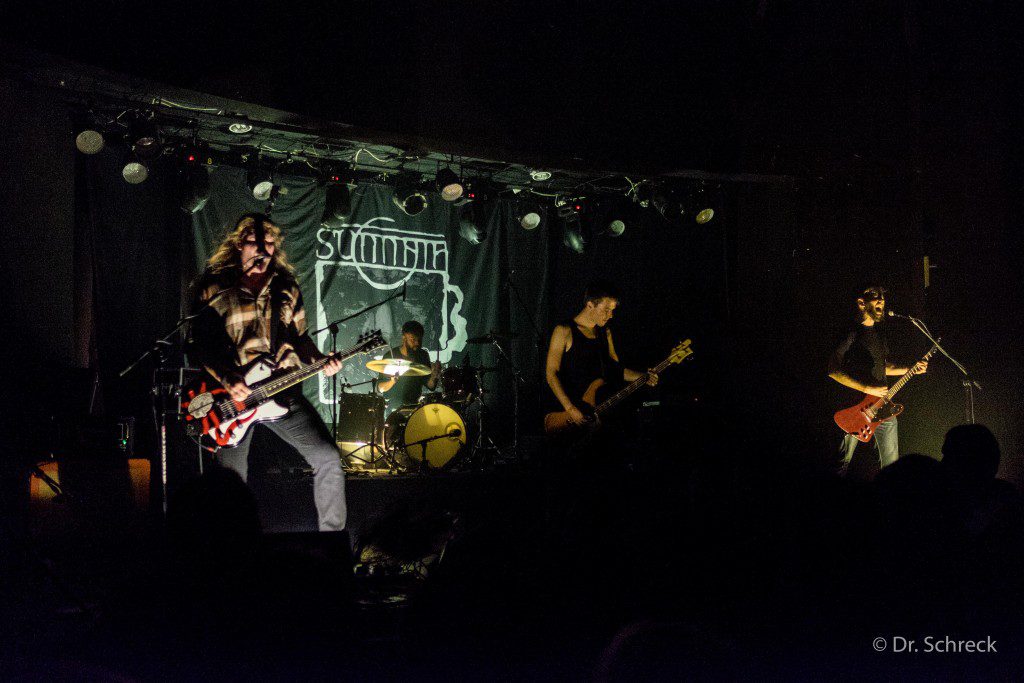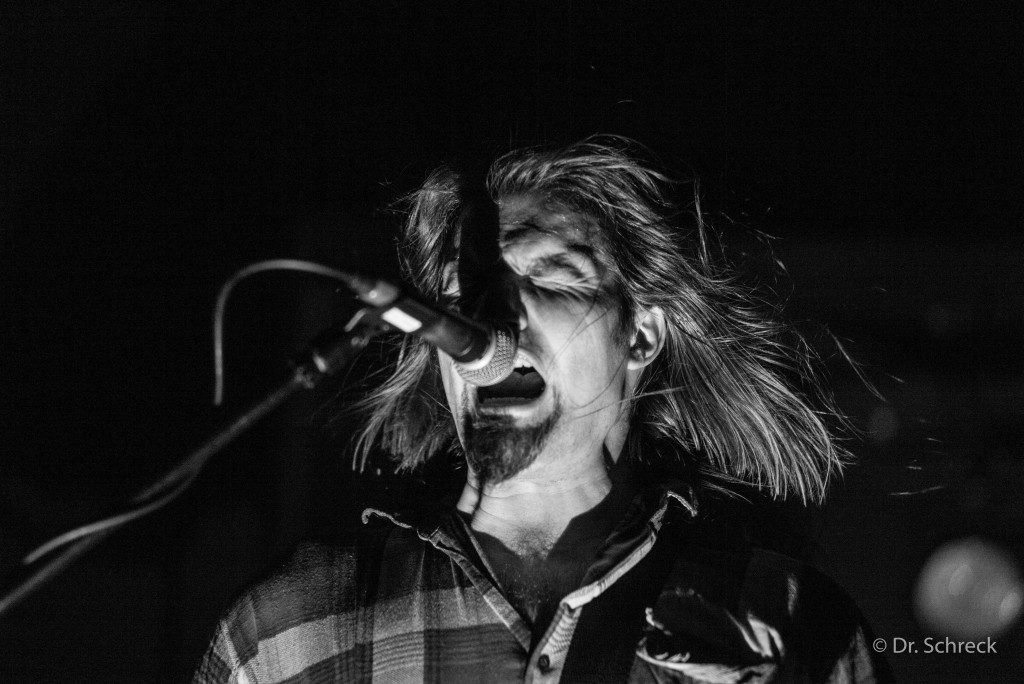 Pero llegaba el momento de Weedpecker, y por ello el momento favorito del Dr. Schreck en el festival. Tras conocerlos en directo en el festival Days Of The Ceremony en Varsovia, se presentaba la ocasión de verlos de nuevo tras la edición de su nuevo disco (II). Una ocasión única para disfrutar de esos pasajes oníricos que tan bien desarrolla el grupo.
But it was time to Weedpecker, and therefore the favorite time of Dr. Schreck in the festival. After knew  them live in the Days Of The Ceremony festival in Warsaw, there was a chance to see them again after the release of his new album (II). A unique opportunity to enjoy those dreamlike passages that so well the band performs.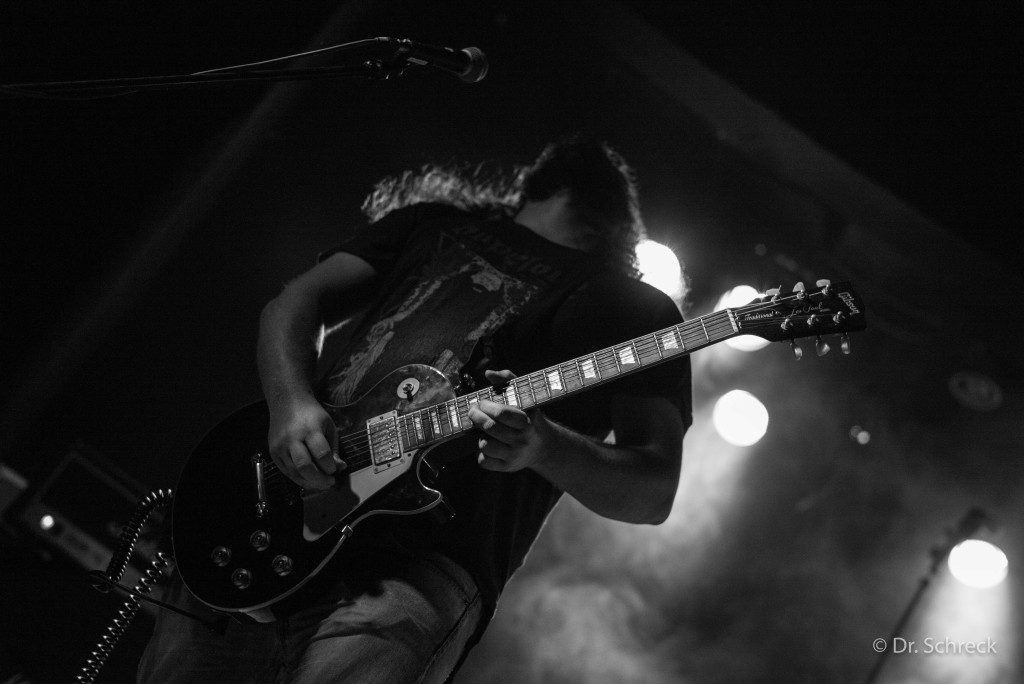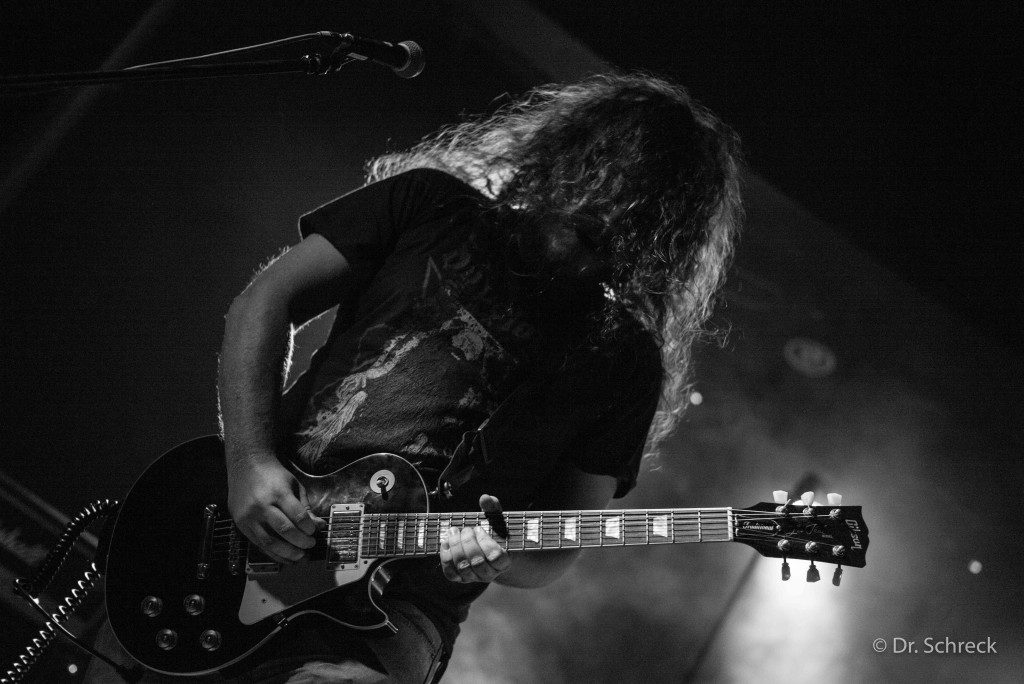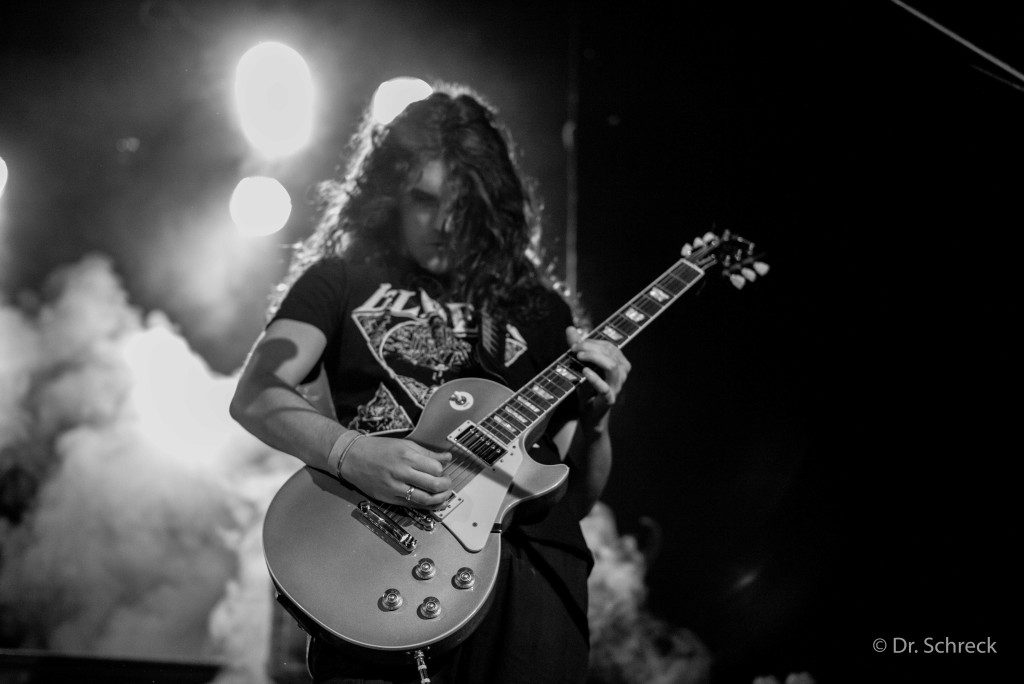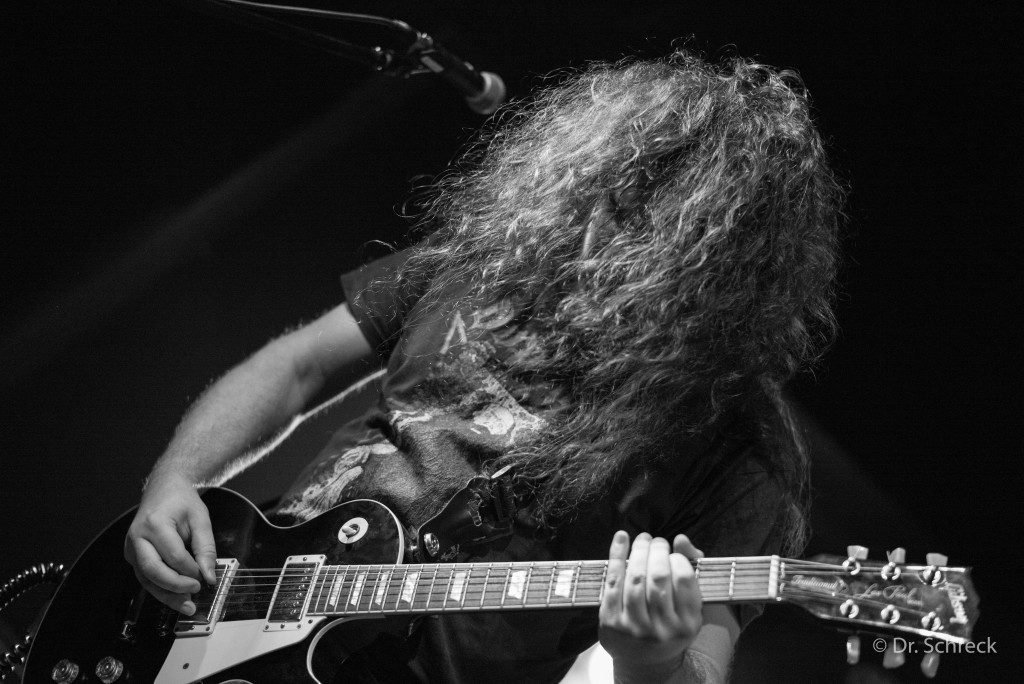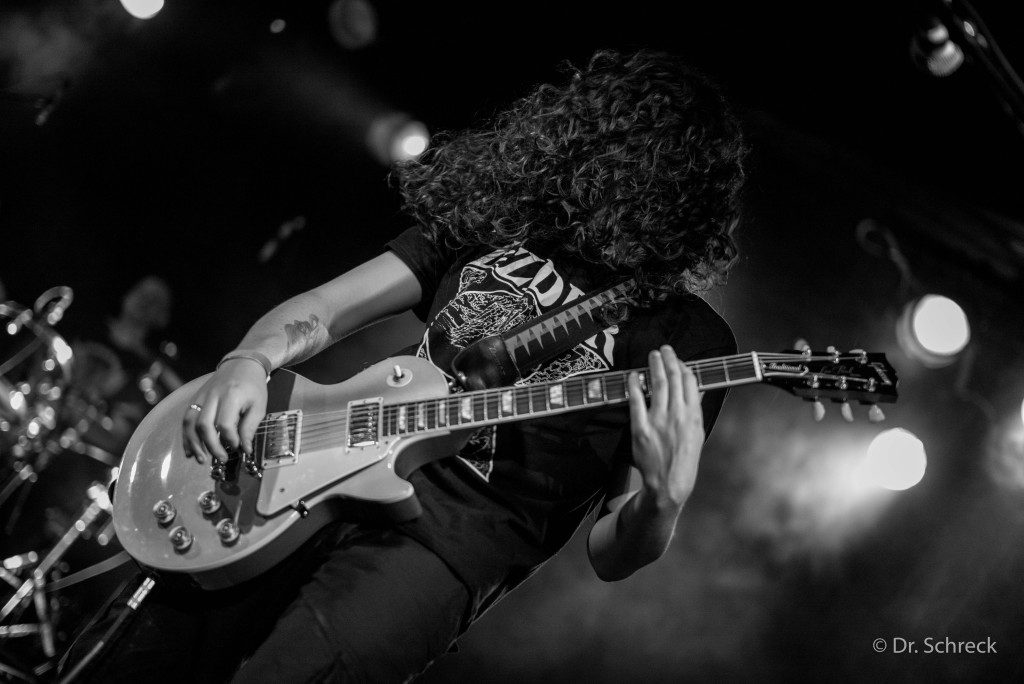 El concierto podría denominarse como orgasmo de instrumental acompañado por unas voces oníricas. Una banda de primer nivel instrumental pero que no abruma técnicamente de manera innecesaria, dando las notas justas y sin excesos..
The concert was a pure ecstasy. A band of first row, instrumentally speaking,  but do not overwhelm technically unnecessarily, giving the right notes but without excesses.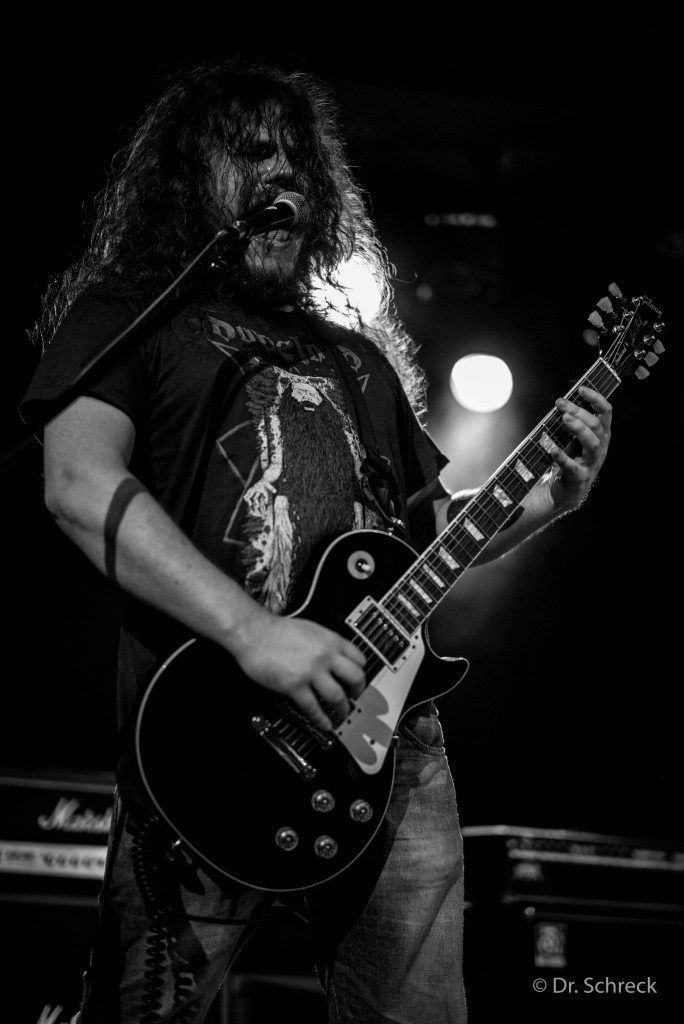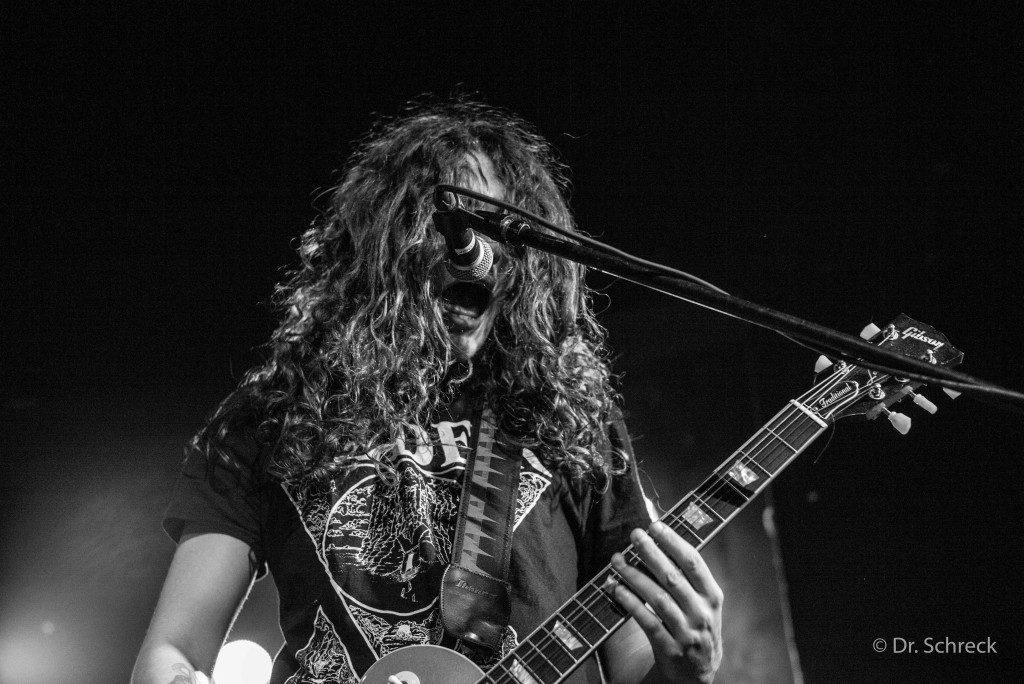 La gozada que me supuso el verlos de nuevo no soy capaz de describirlo en palabras para reflejar lo que ellos hicieron en directo. Una de mis bandas favoritas en estos momentos y su disco (II) esta, en mi opinión, entre los mejores del 2015.
It was a blast for me to see them again I can't describe it in words to reflect what they did live. One of my favorite bands at the moment and their last record (II) is, in my opinion, among the best of 2015.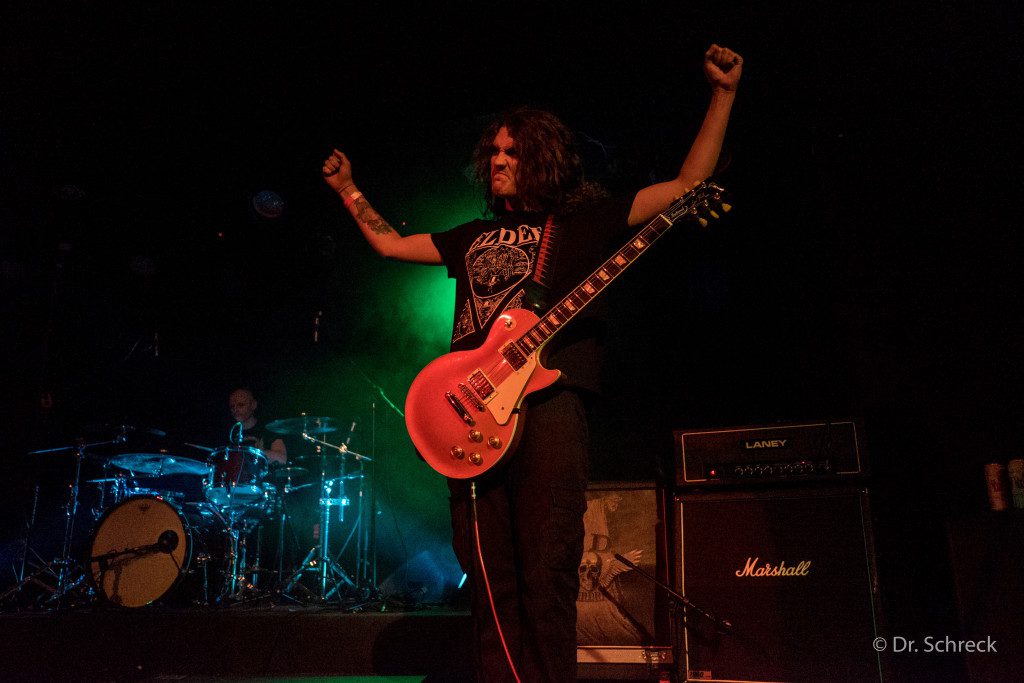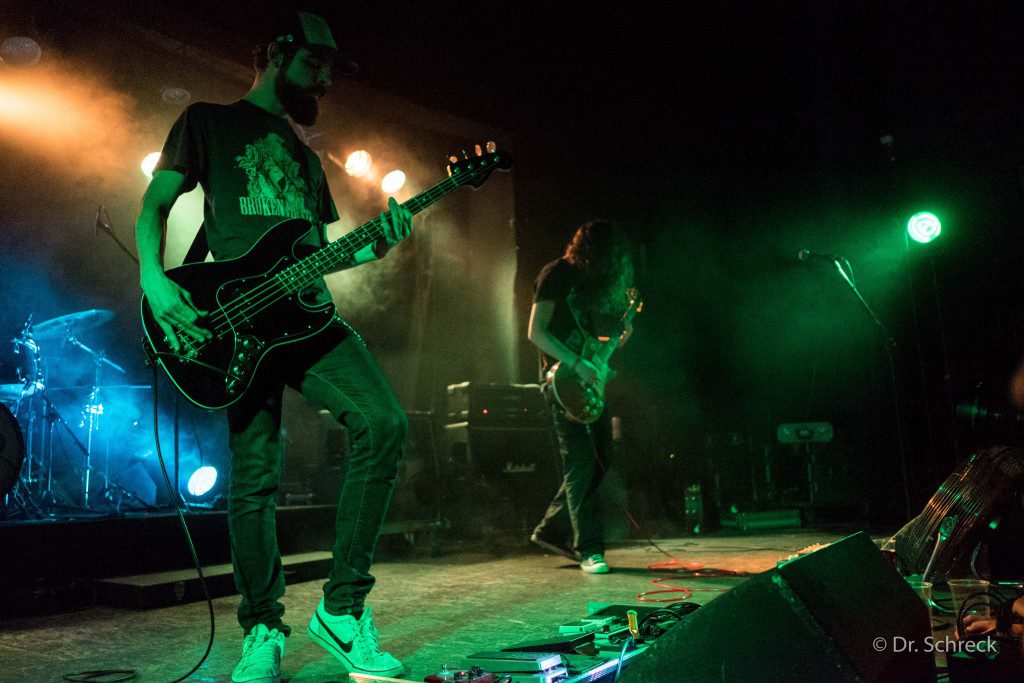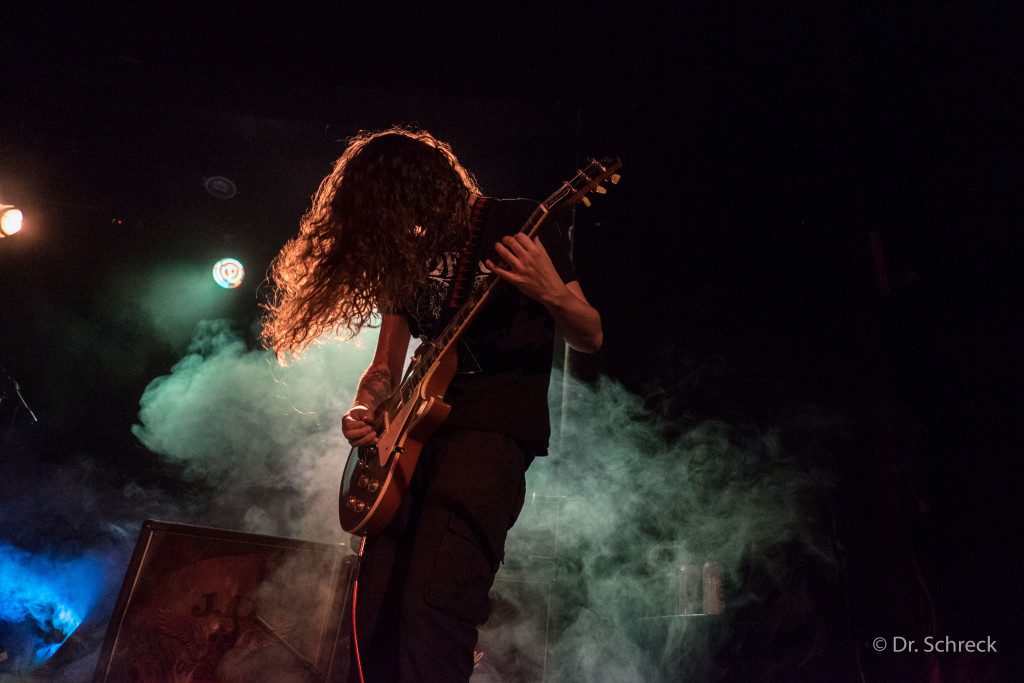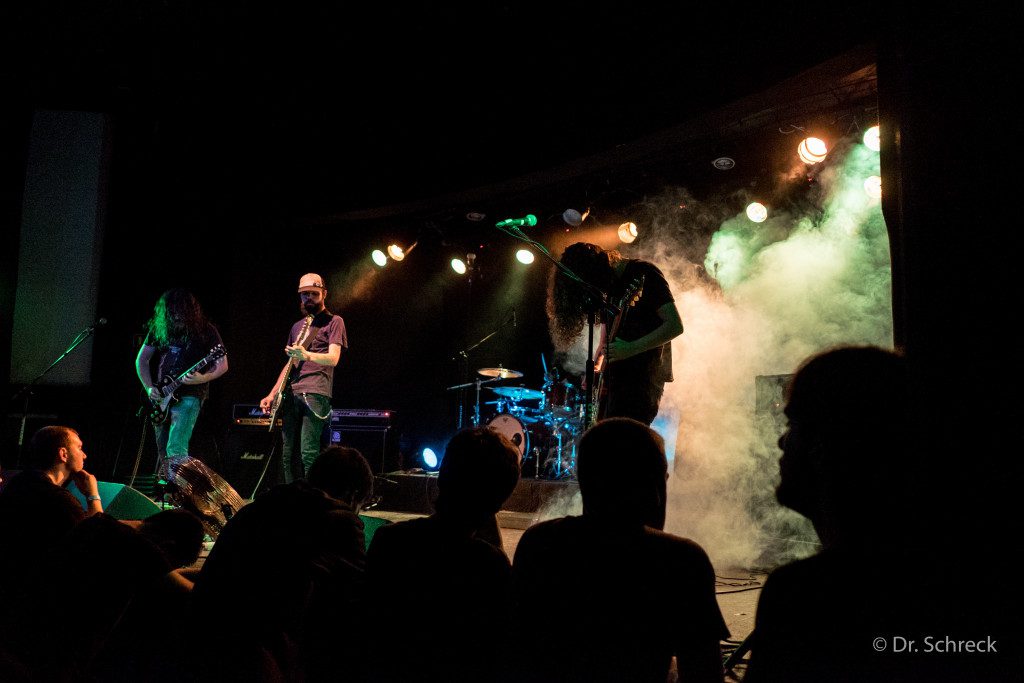 Tras ellos era el momento de los rusos The Grand Astoria que volvían a retomar el estilo mas psicodélico en la velada pero ya empezaban a hacer efecto las horas de festival y decidí que tomaba el camino de la cama antes que terminar dormido o descansando en las escaleras. Así que tras unos cuantos temas, abandone la sala perdiéndome del mismo modo a Stoned Jesus.
Once Weedpecker finished, it was when The Grand Astoria from Russia bring back the more psychedelic style to the evening but at this time of the night was beginning to make effect on me the festival and decided to come back to the hotel before sleeping or resting on stairs. So after a few songs, I leave the club losing also the performance from Stoned Jesus from Ukraine.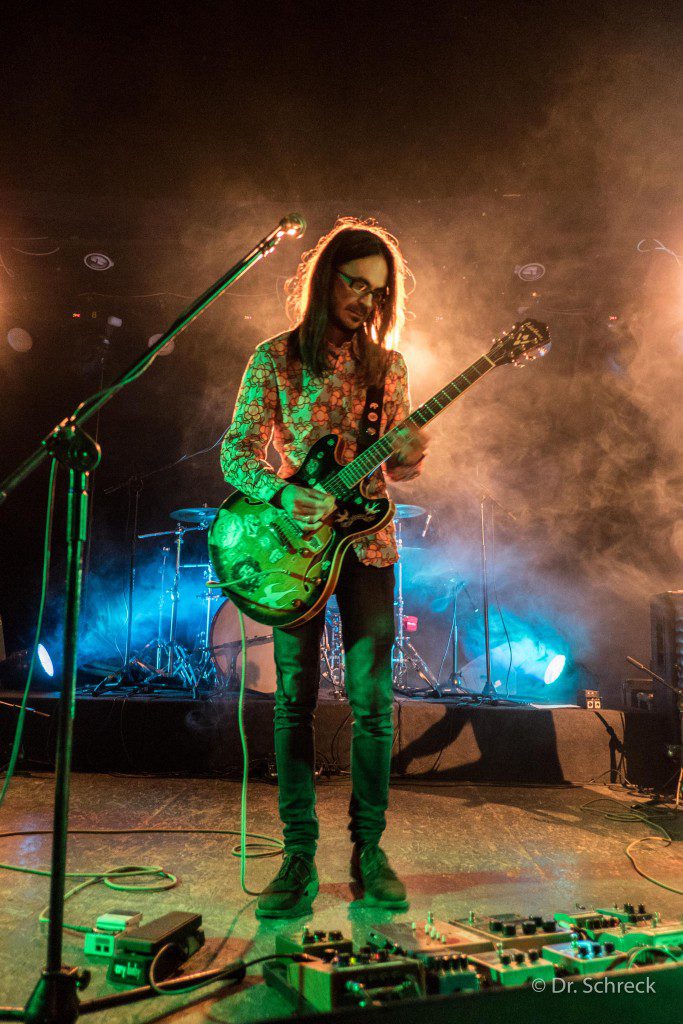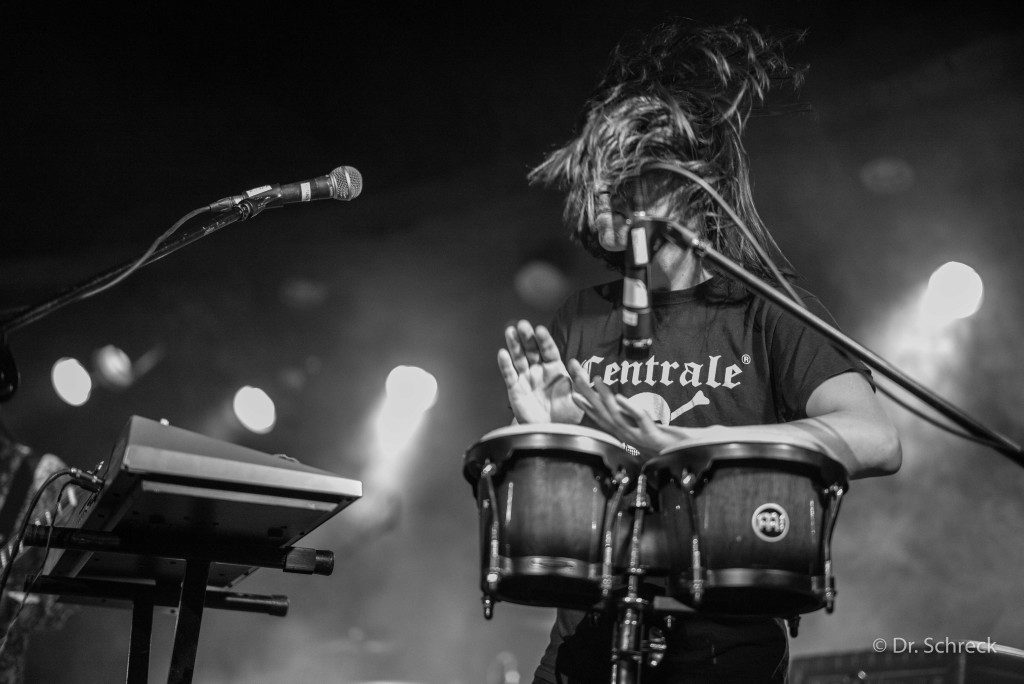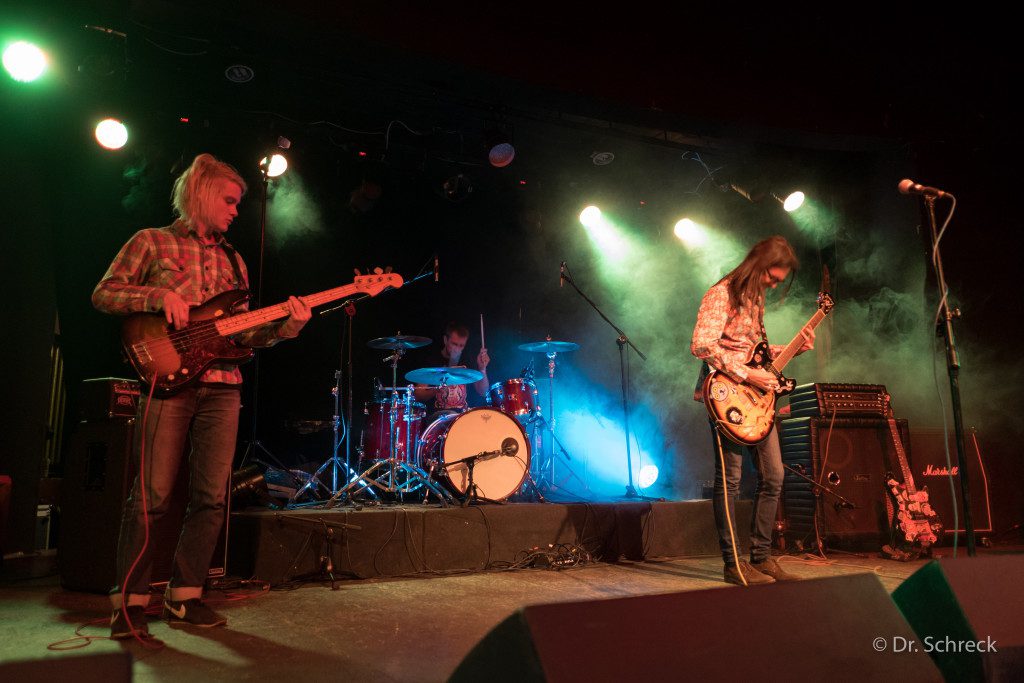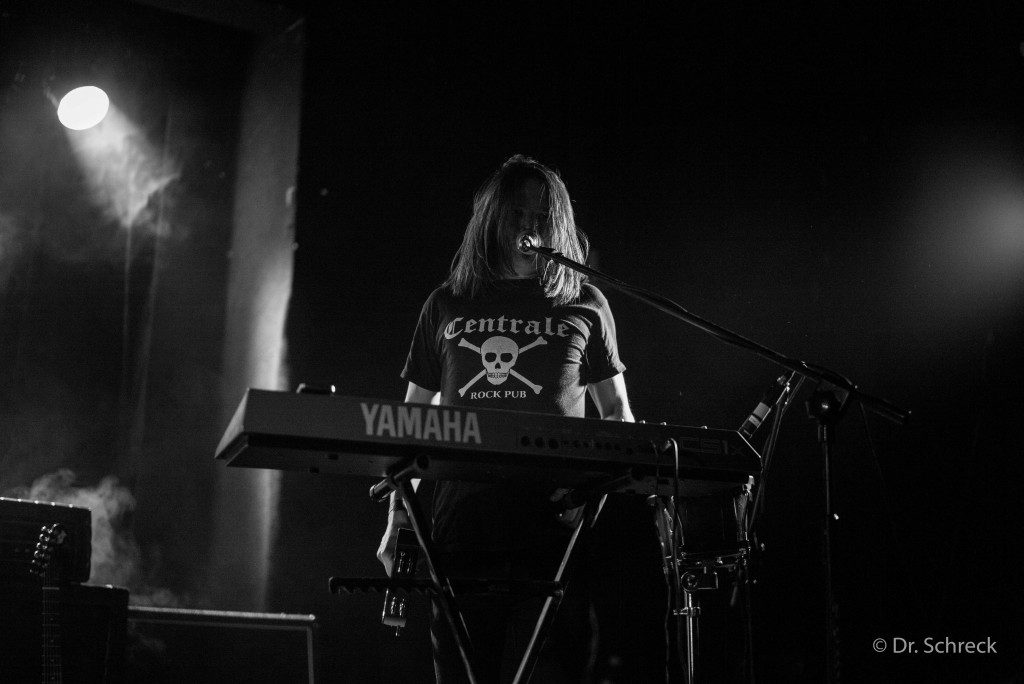 Pero es que desde las 4 de la tarde hasta las casi 2 de las noche que permanece allí, el cuerpo ya no daba para mucho mas.
But, due to the fact that I was there from 4 pm to nearly 2 am, the body and soul were too much tired.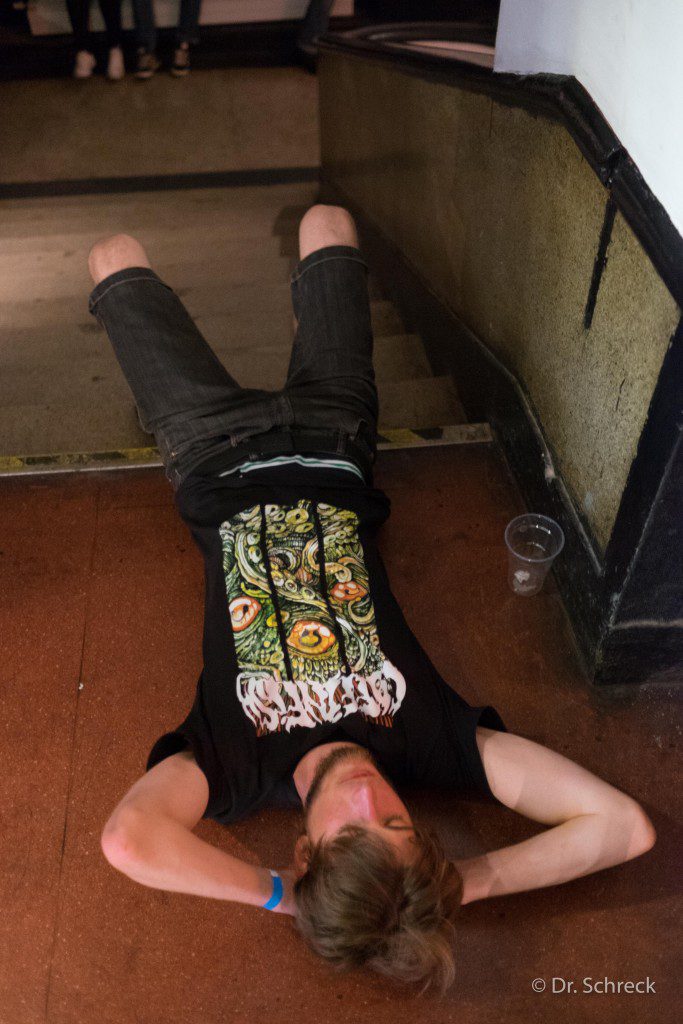 En resumen, un festival de pequeñas dimensiones pero que demostró que hay mucho talento en Polonia y en el Este de Europa. Habra que seguir futuras ediciones.
As a summary, a festival of small dimensions but which showed that there is a lot of talent in Poland and Eastern Europe. I should follow future editions.